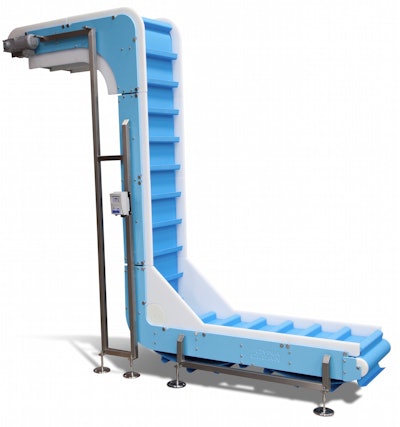 Dynamic Conveyor introduces the new DynaClean Vertical Z conveyor for food and pharmaceutical processing facilities that need to move product to higher elevations. The patented DynaClean line of conveyor systems is designed for ease of cleaning and sanitizing, which results in shorter downtimes and the ability to quickly return the conveyor to the processing line. The design of the DynaClean conveyor allows for 100% cleaning with no hidden places for product to gather.
The Vertical Z is designed to the customer's desired height and includes widths up to 24 in. A variety of belt styles, including solid-surface ThermoDrive and plastic link-style belting, are compatible with the DynaClean conveyor. Drive flight options include standard, 75°, and scoop flights and are selected based on product and desired throughput. The conveyors will accept product from a vibratory feeder, or the company offers standalone or attached hoppers for bulk product feeding.
The DynaClean conveyor line offers an open design with no place for anything to hide. The conveyor is easy to clean, and the solid surface belting with scoop flights can be washed in a matter of minutes. DynaClean conveyors are constructed of plastic and stainless steel materials that meet NSF, FDA, USDA, and BISCC standards. The materials are corrosion-resistant, non-toxic, non-absorbent, and temperature-resistant. The plastic sidewalls do not rot or retain harmful bacteria, odors, or cleaning agents. The conveyors can be cleaned and sanitized with water, steam, and/or detergents ranging from Sodium Hydroxide to Hydrochloric Acid.
Companies in this article