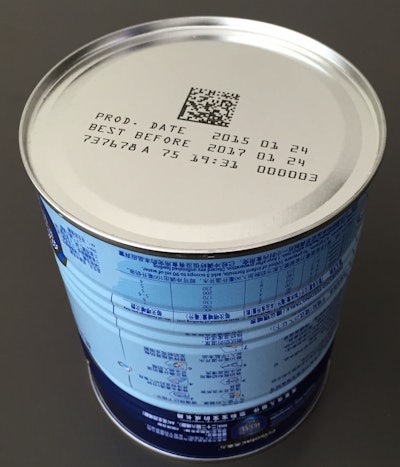 Covectra launched its holistic, integrated serialization-based system for protecting infant formula from counterfeiting. This system, which was developed to meet the increasing need for brand and supply chain integrity of infant formula, also enables track-and-trace and diversion detection of these products through the supply chain and into the hands of the consumer.
The principle of the system is the application of a serialized unique barcode (QR, 2D, or 1D) to the bottom of the can and additional levels of packaging (case and pallet) so that it can be tracked through the supply chain. The serialization system consists of the following components:
• AuthentiTrack® database (hosted in Microsoft Azure® Cloud) for generating and managing all serial numbers, including all events (e.g. scans) associated with that barcode.
• Packaging line serialization system that uses open software architecture and Rockwell Automation technology to print and verify barcodes on each level of packaging.
• Downstream supply chain traceability system, which can be used to track products throughout the distribution system and to detect incidents of gray market diversion. Supply chain partners are able to re-aggregate reworked pallets that were damaged in shipment.
• Consumer friendly and secure authentication features, which can be placed on various parts of the can.
The anti-counterfeit methodology is secure, user-friendly, and can be utilized via a smart-phone barcode scan app available from Covectra.
Companies in this article