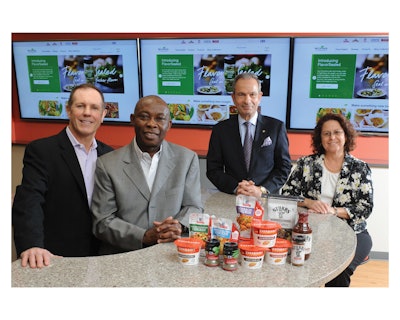 For years we've had packaging people in Europe and Asia in addition to our major packaging group here in the U.S. But we tended to work pretty independently. As we've evolved into a truly global company, we saw the need for being able to do things more efficiently and consistently where packaging is concerned. That's why Michael Okoroafor was brought in to occupy the newly created position of Vice President, Global Packaging Innovation. His job is primarily to make sure we're efficient across our entire global packaging supply chain, we're consistent with our sustainability efforts, and we're on target with a number of important packaging goals and metrics."
That's how Rick Gill, Vice President Technical and R&D, sums up a recent refinement in how things operate at McCormick & Co., a maker of spices, herbs, and flavorings that was founded in Baltimore by 25-year-old Willoughby M. McCormick in 1889. According to Dr. Hamed Faridi, the Chief Science Officer to whom both Gill and Okoroafor report, the creation of the new position has changed the way the firm looks at everything related to packaging.
"Creating this new position is a way to crystallize and articulate how packaging can create incremental value for the company," says Faridi, who leads McCormick's R&D function, including a global team of 400 scientists and flavorists. "We were fortunate to find the right person to lead our packaging team. With his training in polymer chemistry, Michael knows the molecules and science behind the interaction between product and package. This is very important to our business."
With a Michigan State Ph.D. in Organic Polymer Chemistry and considerable work experience at both Coca-Cola and H.J. Heinz Co., Okoroafor joined McCormick in March 2015. He describes the Sparks, MD-based firm, which had sales of $4.243 billion in 2014, as one whose leadership clearly understands that packaging is one of their most important communications vehicles with consumers.
Just as important, he adds, the firm is accelerating its investment in packaging on a global basis. His newly created position is certainly evidence of that investment mindset. Additional evidence is in the Hunt Valley, MD, Technical Innovation Center, which sits less than four miles from McCormick headquarters. The first floor of this state-of-the-art, 130,000-sq-ft facility is largely about product and technology development. As for the second floor, it recently underwent a major renovation that included a sizable addition. As of January 2015 this new space is the hub of all global packaging activities, and it houses the North American packaging development team.
"Having everybody in one location helps us all connect better," says Gill. "And having the product developers in the same building as the packaging group is also very much by design. The conversations we're having are no longer just about how the steak tasted with the Grill Mates seasoning, it's more about how the consumer used the product at the grill and how the packaging helped make it a better experience."
Impressive lab
Part of the second-floor packaging department in the Technical Innovation Center is an impressive lab that has 3D printing capabilities, a custom-designed device for testing the grinders that McCormick incorporates in a number of its packages, leak-detection testing equipment, a device for measuring internal vacuum and sidewall paneling on plastic bottles, a device for measuring the center of gravity of plastic bottles so that packaging line speeds can be maximized without causing the bottles to tip over—and much, much more. "It reflects the meticulous approach we take to packaging design," says Okoroafor, "an approach based on scientifically validated processes."
Further evidence of the firm's commitment to packaging is the Innovation Symposium that McCormick hosted in Shanghai in late October 2015. Invited were 21 vendors—including materials providers as well as packaging machinery OEMs—from around the world comprising a broad mix of innovative packaging leaders offering flexible-packaging as well as rigid-packaging solutions to targeted marketing briefs. Participants were selected for this invitation-only event based on their ability to provide both local and global solutions that will drive product launches aimed at addressing the needs of not just consumers and retailers but also the foodservice and institutional customers who represent 40% of McCormick's business.
From a purely packaging perspective, Okoroafor believes that few things are more important than making sure that the supplier community has a clear understanding of two important facts. First, packaging has become a major growth engine for Consumer Packaged Goods companies like McCormick. Second, suppliers need to invest in the new and emerging technologies that will drive packaging development and innovation.
"I'm not sure they appreciate how important this is," says Okoroafor. "That's why one of the things we are doing proactively with certain strategic suppliers is taking them along and telling them where things are heading. That was the whole idea behind the Innovation Symposium in China. It's one way of mobilizing strategic suppliers to really talk about what they need to come up with to support our growth. They need to know what we see as the strategic imperatives driving packaging."
Though McCormick's largest Technical Innovation Center is the one in Hunt Valley, the firm also has such facilities in France, U.K., Canada, Poland, Australia, South Africa, and China. These innovation centers support not just the McCormick brand but also such brands as Zatarain's and Lawry's in the U.S., Club House and Billy Bee Honey in Canada, and a number of others in Europe and Australia.
China, says Okoroafor, is a growing market for McCormick. So is Russia, where some packaging formats now being introduced are "game changing." This global footprint, he adds, is a huge advantage.
Driving commonalities
"We look for ways to drive commonalities across markets," Okoroafor says. "Ideas don't reside in just one region. If you are a global leader you have to ensure that you are leveraging those ideas across regions."
Also high on McCormick's list of priorities is sustainable packaging. Reduce, Reuse, and Rrecycle are all embraced by the firm, but Okoroafor says a fourth "R" is steadily gaining traction: Renew. Without being specific, he says that packaging made from renewable resources is being studied very carefully at McCormick. "The drawback thus far has been cost," he says. "We believe that with new technologies and some new players now entering this space, we can make it work."
Faridi concurs, and when asked if biopolymers are being evaluated, he says, "They're another tool in our innovation toolbox."
"In the past 10 years or so sustainability has been talked about a lot, but people weren't so sure where it was going," says Okoroafor. "But today in the psyche of the consumer, sustainability is so embedded, it's something that must be addressed proactively and holistically. Once again it comes down to our packaging supply chain, because our suppliers need to understand that we are looking for sustainable platforms to drive our packaging."
Okoroafor mentions corrugated as an area that has some exciting opportunities for reducing McCormick's carbon footprint. But seizing those opportunities requires a new way of thinking. "The traditional approach isn't going to fly because it positions corrugated as nothing but a commodity, and the business of purchasing it is just a cost play," he observes. "If you get beyond that commodity mindset you can begin to think about using fundamental chemical analysis to help you understand what you need to know about fiber strength, about binders, about everything that goes into the corrugated shipper. We're working with some strategic partners on new corrugated materials that will be extremely sustainable. All I can say right now is stay tuned."
Worth mentioning is that as the firm works toward its goal of minimizing its corrugated carbon footprint, it has all the tools it needs to run simulation tests aimed at making sure the corrugated shippers it develops will perform as they should. These testing devices are in the 16,300-sq-ft Technical Analysis Center about a block away from the Technical Innovation Center. "We can simulate everything a corrugated case would encounter as it goes through distribution and shipping," says Okoroafor.
McCormick also has its sights set on barrier materials. Here's the question the firm is asking its suppliers: Why rely so heavily on multilayer combinations that make recycling difficult because so often the layers have to be separated?
Package design
No discussion of packaging is complete without touching on design. Conversations with the brain trust at McCormick make it clear that things like convenience and portability are heavy influencers in the firm's packaging design efforts, as can be seen in a new product and package under the Zatarain's brand. An injection-molded PP cup with a heat-sealed, flexible film lid, the container is labeled with the well-recognized Zatarain's stand out graphics. All the consumer need do is add water to the cup's contents, stir in the supplied seasoning, and microwave for less than four minutes. This represents an entirely new offering, as previously the firm has only produced these kinds of rice blends in a format where the product is measured out from a paperboard carton and is cooked on the stove top. "This gets us into the single-serve and microwave preparation category," says Gill. "It's a whole different user occasion for our rice blend products." Suggested retail price for the 1.75-oz containers is $1.49.
What it really comes down to more than anything else is staying relevant, and that applies to existing designs in need of a refresh every bit as much as it applies to game-changing new packaging technologies. A nice example of a package refresh is found in the redesign for the iconic container by which most consumers know the McCormick brand: the glass bottle that holds a wide range of herbs and spices in the Gourmet Collection. In late 2014, the venerable pressure-sensitive paper label was eliminated in favor of clear film and the oh-so-contemporary no-label look. Also new, the "Gourmet Collection" has now morphed into "McCormick Gourmet."
"We must remain relevant to the consumer," says Okoroafor. "Packaging is the most important communications vehicle we have, so it's important that a package's design, which is very much a moving target, evolve along with the lifecycle of the product."
Faridi couldn't agree more about the importance of staying relevant. "Every morning that I come to work I ask myself what is the best way to remain relevant to my customer, whether it's a consumer, a retailer, or an institutional customer," he says. "It's never about working in isolation and then emerging to say to the customer 'Here, this is what we have developed for you.' Instead it's about traveling frequently to develop customer intimacy so that we know their needs. We believe this is the best way to stay relevant. For us it's a key winning strategy."
Also shaping package design at McCormick is the growing popularity of e-commerce. Gill says it's important to be aware of what he calls "the Amazon effect." Okoroafor looks at it this way: "Think about how many people buy things via the Internet. If your packaging is not designed to communicate effectively on a website, it could cost you. It's reached a point where P&G's famous 'first moment of truth' is now preceded by a 'zero moment of truth,' because now consumers are seeing your package long before that first moment when they encounter it on the store shelf. That's the challenge we face today, and it requires new tools, including things like eye-tracking technology, for example."
By using these new tools and technologies, McCormick hopes to get beyond an understanding of what it is that consumers know and say they want. The goal is to pinpoint their unarticulated desires. "We have a cross-functional team that is very good at listening carefully to what consumers say they want," says Okoroafor. "What consumers tell you is based on what they know and what they've seen, but there are certain things they really need that they can't even articulate. The new herb grinder is a perfect example of that. We delivered to consumers a package they couldn't even describe, but once they see it and use it, they say 'Wow!'"
Innovative herb grinder
The Italian Blend Grinder he refers to was just reaching store shelves the week we visited the Hunt Valley facility. Holding 0.46 oz of product, it's an alternative to an Italian Herb Seasoning Grinder that McCormick has offered for some time. That package, however, is a glass container that includes not just herbs but also some seasonings. This new injection/stretch blow-molded PET package holds nothing but basil, oregano, and rosemary in relatively large pieces and features a grinding mechanism that is really more like a chopper than a grinder.
"It has teeth that marry up together so that as you turn the container upside down and the pieces fall down into it, they're chopped," says Tracie L.C. Wilson, Senior Principal Scientist in Packaging Innovation. "By cutting from the large pieces of herbs right at the moment of use, the aroma and freshness of the volatile compounds being released from the herbs are optimized."
Completing the package are a full-body shrink-sleeve label and a snap-fit injection-molded overcap that the consumer uses to close the container after use. This new package is being produced and filled in France. Wilson describes it as a global project that depended heavily on the talents of three McCormick developers: Olivier Rattin, Director of Packaging Development EMEA at McCormick's Technical Innovation Center in Avignon, France; Package Design Manager Porter Gieske in Hunt Valley; and Wilson herself, who also is located in Hunt Valley. "Olivier focused a lot on consumer feedback, commercialization, and working with the molders," says Wilson. "I worked on the technical development of the grinder mechanism. And Porter designed a container to suit the grinder. The label emerged out of our Graphics Department."
Following its debut in the U.S., where it retails for about $3.49, the container is slated for distribution in multiple regions.
They gotta want it
McCormick's packaging design and engineering people are all about research, but it's never research for the sake of research. Okoroafor puts it this way: "The innovations we're after are things consumers love and are willing to pay for. If they won't pay for it, we shouldn't be making it."
Which takes us back to the herb grinder. In addition to the injection/stretch-blown PET bottle, the injection-molded PP snap-on overcap, and a full-body shrink-sleeve label, the grinding mechanism comprises four parts that are injection-molded of PP. But when asked to comment on the cost of the total package, Okoroafor has a ready answer: "We're in the value delivery business. When we look at innovation, cost is of course a factor. But that's not the place where we begin."
Faridi emphasizes that the primary thing to consider is whether or not it's a consumer win. "That's number one for us—how do we add value for our consumer," he says. "Once that is established, we work at maintaining and increasing that value while looking for ways to reduce cost or simplify the design. But those things are secondary to creating value for the consumer." The notion of a consumer win is one of the elements that Faridi refers to as the "stacked win."
"In order to be relevant and remain competitive you need to achieve four things simultaneously when you develop new products," says Faridi. "Consumer win, economic advantage, technical insulation, and product quality and safety. Economic advantage is critical, as you can't increase the cost of an offering on an ongoing basis. As for intellectual property, without it you become commoditized. You have to create technical insulation to always remain competitive in the marketplace."
When it comes to packaging equipment, Okoroafor says the need for strategic relationships with key OEMs is just as important as maintaining such relationships with packaging materials suppliers. "For example, it's no secret that flexible packaging is one of the fastest-growing packaging formats today," he says. "Among other benefits it brings, you can't really get any more sustainable than bringing in a compact roll of film and turning it into filled packages and product out the door. But there are serious limitations in speed where the equipment is concerned. So we're pushing for more continuous-motion technology, more emphasis on multi-lane form/fill/seal systems. To this company, 60 pouches a minute is too slow. We're looking for three or four times that speed."
As McCormick approaches its 127th year of "bringing passion to flavor," it appears to be hitting on all cylinders where packaging innovation is concerned. "To be an innovative company," says Faridi, "you need to focus on three things: culture, strategy, and thought leadership. You should cultivate a culture that is high energy, agile, inclusive, and non-hierarchical. You need a clear strategy to keep you from getting lost in the maze. And you need thought leadership that isn't necessarily confined to any specific group or department but rather where everybody is recognized as having the potential to be a thought leader.
"As we look for future opportunities we try to keep in mind that, as my counterpart at General Mills likes to say, it's important to move from 'The lab is my world' to 'The world is my lab.' Otherwise you become irrelevant. There just aren't enough resources that you can retain internally to get the work done."