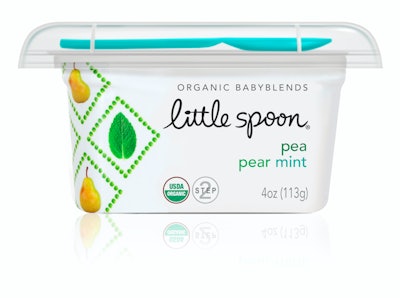 With the mantra, "Your baby food should never be older than your baby," San Francisco-based Little Spoon Organic, LLC is shaking up the baby food category, making fresh refrigerated organic baby food products available to a mass audience.
Three entrepreneurs, Angela Vranich, Ben Lewis, and Michelle Muller, founded the company in 2014 after serendipitously crossing paths in their efforts to find an alternative to highly processed, shelf-stable baby foods. In 2013, Vranich and Lewis began working on developing a baby food product pasteurized using High Pressure Processing (HPP) after they saw how the technology had drastically changed the juice market. At the same time, Muller was trying to expand her New York City-based fresh, organic baby-food delivery service, but needed a way to extend the three-day shelf life of her products. Their shared interests launched Little Spoon.
In March 2015, the company introduced its Little Spoon Babyblends products, comprising three lines of organically grown, non-GMO fruit and vegetable blends for different stages of baby's growth. The products are pasteurized through HPP and are packaged in convenient cups with attached spoons that are decorated with clean, contemporary graphics designed to appeal to moms.
HPP preserves nutrients, extends shelf life
For Little Spoon, freshness is the key to its product; HPP is the means of delivering that freshness in a retail environment.
Says Vranich, "The [baby food] pouches and jars currently on the market use a traditional pasteurization method whereby extremely high heat and long hold times are used to kill off harmful bacteria. This allows manufacturers to make a shelf-stable product that can, in some cases, sit for as long as three years on a grocery store shelf. Using such high heat kills off harmful bacteria, but in the process, it also kills most of the vitamins and nutrients naturally found in the food that make it worth eating in the first place."
HPP uses a high level of isostatic pressure transmitted by water to cold-pasteurize products after they are packaged. "Under these conditions, bacteria react in the same way they do under heat, except the taste, color, texture, vitamins, and nutrients of the food are unadulterated, resulting in the safest and most nutritionally dense food possible," explains Vranich.
"HPP is a complete game-changer for the baby food category," she adds. "It inhibits the growth of vegetative flora in the food and naturally extends its shelf life." To provide HPP services, Little Spoon uses a local toll processor. The method gives its Babyblends products a shelf life of 45 to 60 days, depending on the SKU.
Cups allow for 'sacred experience'
While Little Spoon is not the only company that now offers HPP baby food, Vranich says there are several important points of differentiation between Babyblends and its competition. For example, she says, while some of the new entrants use sugary juices to their purees, Little Spoon does not add any unnecessary ingredients to its blends. "What the consumer sees on the front of the package is exactly what is in the product," she explains. "We do not use additives, fillers, juices, or preservatives."
The other advantage, Vranich says, is that Little Spoon uses a cup rather than a pouch to package its products. "We believe spoon feeding babies their first bites is a sacred experience, and that meals should be chewed, not sucked," she says.
Little Spoon also believes spoon-feeding helps develop vital oral and motor skills and instills healthy eating habits.
To help design a container that would enable spoon-feeding while also provide the convenience of a pouch, Little Spoon worked with design consultancy Little Big Brands. The resulting package is 4-oz, rectangular, clear PET cup with a clear polypropylene lid that incorporates a cyan-colored snap-in spoon. Says LBB Partner Pamela Long, "By incorporating a spoon into the lid, the cup rivals the functionality of a pouch while remaining a fresher, more nutritious option."
The packaging components are supplied by proprietary U.S.-based companies, are BPA-free, and are 100% recyclable. The cup is decorated with a four-color, digitally printed shrink-sleeve label from Fort Dearborn. Label graphics were also designed by LBB, which Long says was given free rein to create the branding they felt was right for the brand. "We wanted very much for this to look and feel like real, fresh, pure food—just for a littler person," she says.
Clean, but playful aesthetic
Graphics for Babyblends' 10 SKUs incorporate an identity built around the little spoon itself and feel "warm and approachable," says Long. Starting with a clean white background, the design features colorful custom "food geometry" patterns made up of images of fruits, vegetables, seeds, or nuts, depending on the variety. For example, Stage 2 variety Carrot Apple Ginger uses a crosshatch design made from carrots, with apples pictured within each diamond. The typeface for each variety uses colors that correspond to the artwork.
"Unlike a lot of brands for children, we made the conscious effort to create something for mom or dad's aesthetic, with just a hint of playfulness," explains Long. "We want parents to know this is real, fresh food they are buying. Your child isn't old enough at this point to assert a preference, so the design was created with what parents want to feed their child in mind."
Introduced first at the Natural Product Expo West in 2015, Little Spoon Babyblends will soon be rolled out in Whole Foods Market in the Southern Pacific and Rocky Mountain regions, with the product marketed in its own, dedicated cooler in the baby food aisle in some stores. The company is also planning to launch a direct-to-consumer subscription service via its website, www.littlespoonorganic.com. The products are priced at $3.99, $4.99, and $5.99 for Steps 1, 2, and 3 respectively.
"The response from retailers has been very supportive and positive," says Vranich. "They are excited to see a healthy and more nutritious option they can offer consumers. We are seeing some retailers really get behind it to promote it and allow us to create a special section for fresh baby food.
"We've also gotten tremendously positive feedback from consumers. Parents love the flavor combinations and the little spoon we've included in the packaging for convenience. We get contacted all the time from consumers requesting stores in their area."
Companies in this article