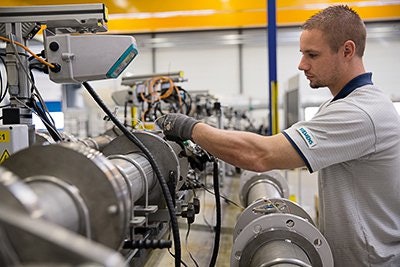 Given the focus on connectivity in the plant coupled with the Industrial Internet of Things (IIoT), the next logical step for manufacturers is to introduce predictive maintenance services. As pointed out in a recent Automation World article, the ability for manufacturers to build out a service-oriented model is an important revenue-generating strategy to accompany the adoption of more digital technologies.
But providing maintenance services is not a new concept. Automation and equipment suppliers have diligently offered aftermarket services for their products for a very long time, albeit, it's just been in the more traditional sense: Fix when—or, hopefully before—equipment breaks.
As we enter a time of predictive maintenance, Siemens is offering manufacturers a new service for the calibration of measuring devices in process instrumentation. As part of the company's Process Instrumentation Services, Siemens experts will provide calibration and verification for field devices such as flowmeters, pressure transmitters, temperature measuring devices and belt scales.
Measuring, positioning, recording and controlling are key parameters for all industrial processes. And these instruments are critical components within the oil and gas, chemical, water, food and pharmaceutical industries.
While perhaps not as evident as other control systems in the plant, the precision and reliability of these measurement devices directly impact the efficiency of operations. According to Siemens, there are many reasons to calibrate field devices, including:
Maximizing production yield by eliminating incorrect measurements
Determining the accuracy of instruments
Gaining compliance with standard legal and metrological requirements
Avoiding unplanned production downtime
Compensating for material and manufacturing tolerances
Establishing traceability
And, controlling quality
And, why verify measurement instruments?
To improve operational safety of the facility
To prevent instrument failure
To distinguish between product and installation fault
To calculate costs
The service, conducted by Siemens experts, is offered to manufacturers either at the plant (on-site) or in the laboratory (off-site), and is designed to be as undisruptive as possible. Electromagnetic flow measuring devices, for example, can be inspected with an on-site, fully automatic performance check that is done in less than 20 minutes without interrupting the flowmeter installation and without expensive removal or installation costs.
Siemens calibration facilities are accredited by COFRAC (Haguenau-France), DAkkS (Erlangen-Germany), CNAS (Dalian-China) and DANAK (Sønderborg-Denmark). Accreditation to the international standard ISO/IEC 17025 means that calibration equipment is constantly calibrated against authorized references, the company said.
Companies in this article