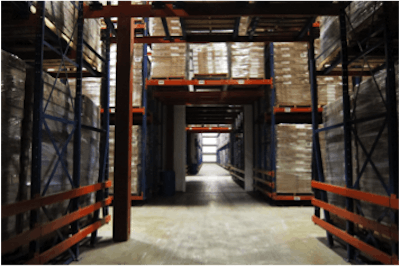 Since opening in 1997, Hill Country Bakery has built a reputation around the quality of its products and its production processes. In fact, the maker of coffee cakes, muffins, and decadent bars has a longstanding history of producing great baked goods. And, that has earned the San Antonio, TX company a Safe Quality Food (SQF) Level 2 certification from the SQF Institute, which is recognized by the Global Food Safety Initiative (GFSI).
Hill Country Bakery has four plants, plus a 55,000 square foot off-site cold storage distribution center for housing ingredients and finished goods. Temperatures in the warehouse need to be monitored and kept within a narrow range to ensure product quality and safety.
The distribution center has multiple refrigeration zones, and, it had been using hard-wired temperature probes to collect and monitor temperature data. Hill Country Bakery was not satisfied with this aging temperature monitoring system. Specifically, problems crept up with the connecting wires, which were prone to damage by forklift trucks, for example, that could temporarily interrupt the continuous collection of data. In addition, the method for data collection was inefficient, temperature readings had to be manually logged into a database for reporting—a time-consuming task with inherent risk of human error.
So the bakery turned to Patti Engineering, a CSIA Certified control systems integrator offering engineering and software development services. Patti Engineering designed and implemented a more advanced and automated temperature monitoring system. The integrator used wireless sensors from FreshLoc Technologies and developed a customized HMI and SCADA system using Schneider Electric's InduSoft Web Studio software platform.
Now, all temperature zones can also be monitored in real-time at the plant or on a mobile device. In addition, data is automatically recorded into a SQL database from which reports can be generated. The engineers were able to program the Indusoft platform to communicate directly with the sensors via ModbusTCP, which eliminated the need for additional PLCs.
The new system monitors the temperature zones, sends alarms via email, and can produce reports on demand for specified periods of time.
Due to the automated data collection, Hill Country Bakery now feels confident in the integrity of all reporting needed for SQF certification.
To that end, many suppliers, retailers and processors are looking to modernize and automate temperature monitoring and data collection programs to meet Food Safety Modernization Act (FSMA) regulations. Beyond FSMA, companies pursuing SQF certification are required to establish a Hazardous Analysis and Critical Control Points (HACCP) food safety plan which is benchmarked by the Global Food Safety Initiative.
"We approached Patti Engineering with our desires for a reliable system, and a [way] to resolve some of the issues we had seen with the antiquated system," says Nick Rendon, maintenance manager for Hill Country Bakery. "Their system is a cost effective, reliable, wireless solution that addresses all of our needs and satisfies the requirements for SQF. They worked expeditiously to successfully deliver our system in time for audit."
In addition, cost savings were realized because employees no longer have to spend hours manually logging the recordings. In the future, functionality can be added to include remote temperature control as well as data collection from the manufacturing lines to improve OEE.
Companies in this article