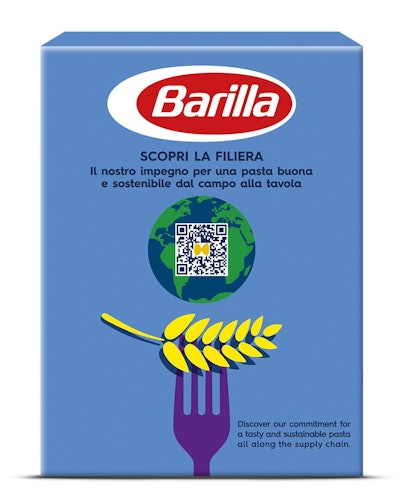 The terms "field to fork" or "farm to table" are often used to describe the movement to track all stages of food production: from local food harvesting to storage, processing, packaging, and ultimately, consumption. Now, with the U.S. Food and Drug Administration's Food Safety Modernization Act (FSMA), there's an even greater emphasis on food quality and safety.
Leave it to a company established in 1877 to be on the forefront of this food safety movement, leveraging the latest technology trend—the Internet of Things (IoT).
Barilla Group, the Italian company known for its Barilla brand pastas and sauces and which has 30 global production sites, recently created a prototype of a "digital passport" that takes the consumer on a journey from where the food was grown to how it was processed and ultimately arrived on the store shelf.
In partnership with Cisco, Italian consulting company Penelope S.p.A, and NTT Data, a global IT services provider, Barilla implemented a technology platform called Safety for Food (S4F), powered by ValueGo software.
The technology enables a consumer to use a smartphone to scan a QR code on the back of the limited edition farfalle pasta box or tomato and basil sauce jar, which brings them to a website that tells the story of the specific production batch. Details are provided about the origin of the durum wheat varieties and background on the harvest and milling, moving them through the supply chain to Barilla's plant in Parma, Italy, and ultimately the delivery to the point of sale. In this pilot project, the retail outlet was the Coop Supermarket at the Future Food District Expo, which took place as part of Expo 2015 from May to October 2015 in Milan, Italy.
Consumers accessing the website could drill down to find information about local farms and how the farmers use technology to obtain detailed data about weather, soil conditions, and the characteristics of crops to improve efficiency as well sustainability. By using a lifecycle assessment methodology, Barilla is able to calculate the environmental impact of the durum wheat cultivation for each batch, including ecological footprint (the amount of land occupied to regenerate resources used), carbon footprint (the total impact of the activity on climate change) and water footprint (the water resources consumed).
"Through this innovative initiative, we aim to not only provide greater transparency and safety in the supply chain, but to also give consumers a greater connection to their food," said Giorgio Beltrami, Barilla's quality, food safety and regulatory global director. "By following the story of the specific batch of Barilla pasta or sauce, consumers can better correlate the food with the culture of the area in which it was born."
But beyond providing comfort to consumers, this digital footprint—which is enabled through sensors, wireless networks, the cloud and analytics—offers visibility and traceability required to ensure safety and quality across the agricultural food chain. It combats counterfeiting in the supply chain, and, when combined with processes and people, it significantly changes the dynamic of the farm to fork phenomenon.
Cisco has been working with a variety of farm-based applications from tracking ocean oysters to growing wheat grains. This connected food movement encourages a holistic view that encompasses data, process and people, which is the Internet of Everything (IoE). And, it requires three key layers: The sensors; connectivity from the sensors to the cloud; and analytics.
"We've worked on providing the platform that a farmer can plug into through distributed routing devices and protocol standardization to capture and process data without reinventing the wheel," said Shaun Kirby, CTO of Cisco Consulting Services.
But Cisco also looks at the holistic process, using IoE to radically transform the business. One emerging philosophy is called "frictionless business," Kirby said, which is taking technology down to the last mile—as in fog computing—to create more automation and efficiency.
"The Internet of Everything changes the way we farm, produce, distribute and consume food, making it more transparent and therefore safer," said Agostino Santoni, CEO of Cisco Italia. "The Safety for Food initiative aims to provide a global database of food products and greater traceability of agricultural food production, according to international standards on food safety, quality and origin of raw materials. We are thrilled to be part of such an important initiative that is improving consumers' lives by using IoE technologies to help solve real world issues as important as food transparency and safety."
And, Barilla, a family-owned company making quality Italian food for almost 140 years, is happy to serve as an example of how tradition and technology can unite to improve the overall eating experience.
Companies in this article