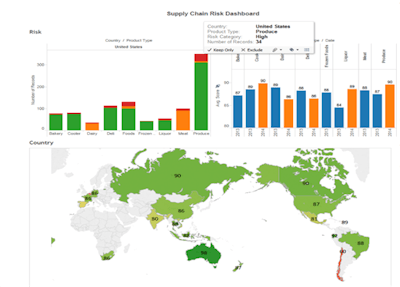 When we gather around the table for our favorite family meal, we don't think about what it took to get that food safely onto the dinner plate. But it's top of mind for manufacturers who are constantly looking at ways to ensure quality products are delivered to your dining room.
Indeed, there's a lot of ground to cover in the journey from farm to fork, and much of that is not visible to the manufacturers who are ultimately responsible for food safety. But cloud-based applications, which many manufacturers have ignored in the past, are quickly becoming the tools of choice for ensuring quality compliance for food sources passing through the supply chain.
That's why NSF International, a public health and safety organization that develops standards and certification programs for a range of industries, including food, has developed cloud-based quality and compliance software. NSF's TraQtion (formerly known as Aspirago), is designed for food retailers, restaurants and manufacturers, providing visibility and corrective action across the supply chain.
Recently, NSF upgraded the software, adding a proprietary intelligence compliance engine that runs algorithms in the background in order to provide visibility into problem areas. The functionality goes beyond just storing data to also scanning, evaluating and interpreting the data to ensure everything meets quality requirements. The engine also immediately alerts users of a high-risk situation associated with a supplier, product or facility, for follow-up action.
"Today's food safety and quality professionals deal with numerous data points originating from multiple sources to identify if a supplier or product is safe to use," said Sireesha Mandava, senior director of information management services at NSF. "TraQtion allows a business to build a solution that works seamlessly with current processes and procedures by integrating with other internal and external systems for smooth information flow."
In addition to the intelligent compliance engine, new capabilities within TraQtion include an enhanced product inspection module for automatic identification of in-spec and out-of-spec products through testing and inspections, and advanced dashboards that provide a visual overview of a company's quality and compliance program. A color-coded compliance rating for suppliers, products and sites quickly help to identify any issues.
These upgrades are included as part of the TraQtion suite, which includes three modules:
The Supplier Compliance function provides control and visibility into the supply chain and supplier communication. Designed to help manufacturers comply with the Food and Drug Administration's Food Safety Modernization Act (FSMA) Foreign Supplier Verification Program, the compliance engine runs 24x7, checking against requirements and generating automatic alerts for appropriate actions.
The Product Compliance module provides assurance that products received meet specification. All product information is in one place allowing for full compliance that enables immediate pull of products and identification of alternate suppliers, if needed.
The Site Compliance tool includes a central dashboard for all facilities with at-a-glance performance ratings identified by the TraQtion compliance engine, helping to create streamlined communication and quick action.
The latest updates to the software suite are an important evolution in the product. And, according to NSF, while the organization has already made a significant investment in TraQtion, over the next three years it will invest an additional $6.5 million to further expand functionality to deliver smart end-to-end quality and compliance software.
For more on this topic, see: Cooking Up a Food Safety Plan