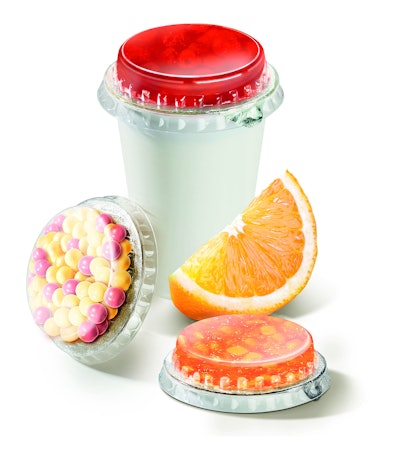 In Poland, 73% of consumers prefer to enjoy their yogurt as a snack, according to DSM, The Netherlands. Dairy companies, thus, seek innovative opportunities to bring differentiation to this market. Zentis Polska, for example, has introduced Top-Cup.
In cooperation with Poland-based Constantia Colorcap, Zentis developed the product to fulfill customer expectations for a variety of flavors. "With this innovation, toppers can now be filled with countless liquids like fruit, warm flavors or vegetable preparations," says Maciej Banaś, sales manager, Zentis Polska. "Zentis is one of the first companies worldwide to offer these types of liquid fillings and is doing so without using preservatives and still complying with the challenging dairy microbiological standards."
Zentis already provides a range of dry toppings for multi-compartments and top cups. "Those products underline our customers' desire for diversity and new, individual taste experiences," says Banaś. "Therefore, we now provide a range of premium quality liquids: fruity, spicy, sour, sweet, strained or with fruit pieces, and warm flavors like toffee, nata de coco, chocolate or coffee. To deliver these diverse solutions to our customers, Zentis applies selected fruits and other natural ingredients from suppliers around the world."
Depending on the customer's requirements, application, and liquid filler, the toppers are made of a variety of raw materials, and are available in two sizes: 75mm wide and 8mm high, holding up to 30g of product; and 95mm wide and 8mm high, holding up to 45g of product. The toppers are produced, filled, and delivered by Zentis. Customers can apply the toppers on their cups manually or with automatic applicators. "Now, dairy, beverage, and bakery industries can benefit from this simple solution without intermediate suppliers," he says.
Zentis Polska
+48 25 640 21 00
www.zentis.de