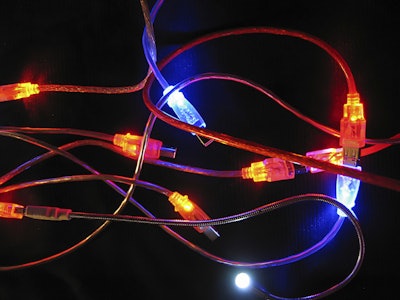 The worldwide industrial Ethenet market is expected to grow at a CAGR of more than 15% during the next four years, according to a report from Technavio.
Entitled "Global Industrial Ethernet Market 2016-2020," the research report provides an analysis of revenue and emerging market trends, and categorizes the global industrial Ethernet market into the following segments:
Ethernet/IP
PROFINET
EtherCAT
TCP/IP
POWERLINK
Others.
Four independent organizations collaborated to develop and promote Ethernet/IP in factory automation and control : ODVA (the partnership between Rockwell Automation, Schneider Electric, Endress+Hauser and other automation companies); the Industrial Open Ethernet Association (IOANA); Control Net International (CNI); and the Industrial Ethernet Association (IEA). The goals of these groups are to foster Ethernet/IP implementation and provide awareness about Ethernet/IP standards that are suitable for a variety of automation devices. These groups manage the development of Ethernet/IP technologies and assist manufacturers with tools, training and marketing activities.
In 2015, approximately three million devices operating on PROFINET were purchased in the global industrial automation market. In December 2015, the total number of devices operating globally on PROFINET was 12.9 million, which represents a 30% increase in the installed base over the previous year. IO-Link has seen the highest increase in 2015 with 63% growth over the previous year. The total number of installed IO-Link devices operating on PROFINET is approximately 3.6 million.
According to Bharath Kanniappan, a lead analyst at Technavio for research on autoamtion, "The number of nodes for PROFINET is predicted to increase during the forecast period, as it has started to replace conventional fieldbus technology PROFIBUS in industrial automation."
EtherCAT is used in automation applications that require a short time for data updates with low communication jitter and hardware costs. Some of the advantages of EtherCAT are:
Higher determinism compared with other Ethernet variants. The quick reaction time reduces the intervals during transitions between the process stages and improves the overall process efficiency.
System architecture reduces the load on the central processing unit (CPU) by 25%-30% compared with other bus systems given the same cycle time.
Support of entire CANopen and SERCOS drive profile. This helps users configure the EtherCAT networks easily to a specified application by modifying predefined basic profiles.
Support for almost any topology, making it suitable for a wide range of applications. This makes it flexible in terms of wiring, and different cables can be used.
Modbus TCP/IP is an extension of popular Modbus protocol to replace the serial connection with TCP/IP. Modbus initially suffered from being a low-speed class of communication network because of its serial communication nature. The protocol was extended to provide real-time support to improve the communication speed. In this protocol, subscribers can determine the rate at which they need to receive the information. The protocol also sets the maximum received rate and the time interval after which the information becomes useless. However, Modbus TCP/IP uses standard TCP/IP stacks, which is a major issue as such devices can be easily hacked through the Internet.
POWERLINK is the real-time protocol for standard Ethernet. This protocol is open and is managed by the Ethernet POWERLINK Standardization Group. Real-time control is required to handle the speed of devices, control loops, and safety products for motion control applications. Conventional Ethernet devices are not capable of providing this facility. Hence, POWERLINK was developed to strengthen the communication capabilities.
Another important feature of POWERLINK is the accuracy with which it ensures data transfer to the required destination in a specific predictable time. POWERLINK Ethernet also provides visibility of all devices on the network. Through POWERLINK, data can be transferred to standard applications such as databases and process control systems. This allows devices to be monitored, configured, diagnosed or upgraded from any accessible network point.
The other industrial Ethernet market includes SERCOS III and CC-Link IE. Approximately 2 million CC-Link IE device nodes were installed in the industrial automation sector in 2015 according to Technavio research analysts. The total number of nodes installed worldwide amounted to approximately 17 million by the end of March 2016. CC-Link IE, invented by the Mitsubishi Electric, is the de facto networking standard in the Japanese industrial automation sector. It is expected to grow during the forecast period because it is penetrating China and the majority of Asia. It is also gaining a footprint in the Americas and the European industrial automation sector. The number of CC-Link IE compatible product types reached 1,358 in 2015, giving a wider choice of devices for all applications.
The top vendors highlighted by Technavio's research analysts in this report are:
Beckhoff Automation
Cisco Systems
Rockwell Automation
Schneider Electric
Siemens.
www.technavio.com