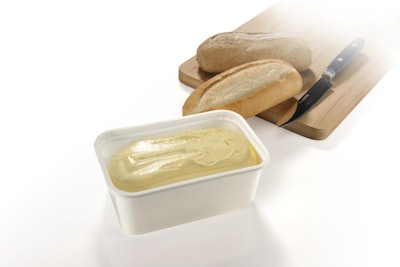 SABIC of Saudi Arabia has developed the first of a new generation of FLOWPACT polypropylene (PP) impact copolymers to help manufacturers of injection-molded rigid packaging make stronger products and cut costs. According to Ricardo Calumby, market development, rigid packaging for SABIC, PP FLOWPACT FPC45 could replace conventional polypropylene PP grades used in packaging, including metal packaging such as cans, depending on the application requirements.
Rigid packaging made with PP FPC45, including types that can be hot-filled, has considerably higher top-load strength than identical products made with current benchmark materials. This in turn improves stackability, offering better economics in transport and storage, says Calumby.
The flow properties of PP FPC45 further assist with thin walling and fast injection, and a higher crystallization temperature will enable parts to be demolded faster—reducing energy consumption and increasing productivity at the processor. The material has been developed for producing rigid packaging with volumes ranging from 200ml to 10 liters, and is typically used in rigid, thin walled packaging.
SABIC saw a need in the market for a material capable of delivering higher top load strength and stiffness in hot filling applications. SABIC'S PP FLOWPACT FPC45 delivers a top load strength that is 17% higher than current benchmark materials commercially available today, states the company.
Applications include food packaging containers as well as caps and closures. This includes packaging for cheese spreads, dairy, frozen, chilled and ambient food.
Benefits of PP FLOWPACT FPC45 include reduced packaging waste by up to 9%. "Reducing packaging weight remains key to limit the environmental impact," says Calumby. As soon as the full life cycle analysis (LCA) has been completed, he says. SABIC can indicate the advantages in cumulative energy demand (CED) and greenhouse gas (GHG) emission.
Companies in this article