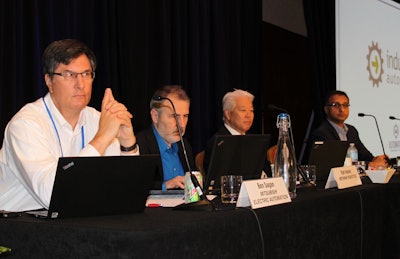 Manufacturers concerned about the future of their businesses are increasingly turning to collaborative robots as a way to address a skills gap, but, perhaps more importantly, to stabilize the existing jobs. Still, there are concerns related to safety. That was the overarching message from the audience at the 5th annual Automation Conference & Expo taking place this week in Chicago.
During a panel discussion on collaborative robots—or "co-bots," executives from Mitsubishi Electric, Rethink Robotics, Universal Robots and Yaskawa Innovation, introduced their respective products and explained how this nascent market segment could be just the kind of disruptive automation that the factories need. And—to set the record straight—co-bots won't take jobs away from humans. They will augment current working conditions.
"We don't want to replace people," said Yuri Ivanov, innovation scientist at Rethink Robotics. "We want to give them super powers."
Super powers in the factory, that is, which will come in the form of durability, productivity, flexibility, and ease of use as robots and people work side-by-side.
"No guarding means mobility, which means flexible deployment," said Craig Tomita, area sales manager for Universal Robots. Co-bots can be re-deployed easily and can automate almost any manual task, he said.
With less skilled labor in the workforce, "more automation means more jobs are stable," noted one conference attendee. As the economy ebbs and flows, individuals don't have to be let go in a downturn when a robot is doing the dirty work. More importantly, people work in ways that will grow the company. "It's about creating sustainability within the business and minimizing the impact of the cost of labor."
The cost of labor is of increasing concern as the manufacturing industry faces a labor shortage. A recent report from Deloitte and The Manufacturing Institute made a forecast that over the next decade, nearly three and a half million manufacturing jobs likely need to be filled and the skills gap is expected to result in 2 million of those jobs going unfilled. According to the report, an estimated 2.7 million jobs are likely to be needed as a result of retiring baby boomers, while another 700,000 jobs will be created due to natural business growth.
Customers are interested in collaborative robots because they offer an incremental approach to automation, introducing them into manual processes as-needed, noted Dr. Chetan Kapoor, senior director of technology innovation at Yaskawa. Another important aspect of co-bot success in the future is the fact that the users can integrate the robots into the environment themselves. "They are already highly trained engineers so they can do it," Kapoor said. "But it has huge ramifications for the future, because when end users start doing deployments themselves, they start to see robots as their partners, and then they see other opportunities everywhere in the plant."
To that end, Kapoor said the collaborative robot market will reach $1 billion by 2020 with about 40,000 units expected to be sold in the next few years.
And, since this is still an emerging market, we are just skimming the surface of what can be done with co-bots. For example, artificial intelligence will play a huge part in the future of making co-bots more human-relatable, said Rethink Robotics' Ivanov.
Even with all of the potential that co-bots have to offer on the factory floor, manufacturers are still concerned about safety. One audience member noted that his company bought a Universal Robots co-bot, and, even after a risk assessment, OSHA mandates that there be a guardrail around it—like what is required for a regular robot—in the event the co-bot were to hit someone in the head, for example. This defeats the purpose of a collaborative robot.
It is a bothersome problem to have, as it is hard to get around OSHA, but in a risk assessment one could prove the robot will not injure a person because they have sensors that signal it to stop when someone is close to the system.
"There are a series of safe stops, safe speeds, and safe points, so as [a person] walks closer to the robot it slows down, even closer and it stops," said Ben Sagan, business development manager at Mitsubishi Electric. "Everything becomes application specific. The distance and the speed is based upon when that robot receives a signal to get into a safe position so that it doesn't injure a person. So your safety zones are just like a risk assessment."
In addition, documentation that proves operators are trained to work with the robot could help with potential OSHA issues.
Despite some issues to still overcome, this is a technology that will be transformative, the panel said. "In my opinion, co-bots are the right instrumentation at the right point in time in our economy," Tomita said.
Companies in this article