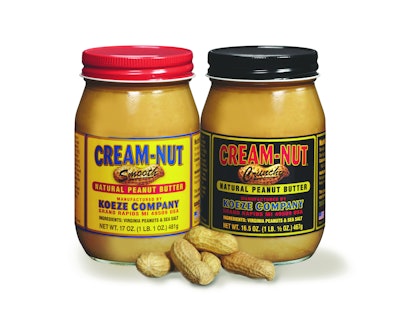 Koeze Company is a Grand Rapids, MI, manufacturer of old-fashioned peanut butter, roasted nuts, and chocolates. Founded in 1910, the family-owned business prides itself on using simple, natural, high-quality ingredients and traditional processing methods to produce its premium products.
To convey this quality at point-of-sale, Koeze is very particular about its packaging graphics, especially for its natural peanut butter spreads. For some time, the company used digital printing for three of its varieties, until label converter Great Lakes Label shared with them the results they were achieving with flexographic printing using new plate and printing press technologies.
"They ended up bringing their business to us, based solely off of quality, and the pricing was pretty consistent with what they were already paying, because they were producing fairly short runs," explains Great Lakes founder Tony Cook.
"It's not very often a company will switch from a digital press to a flexo press based on quality," he adds. "That's been kind of unheard of over the last few years."
Fine-tuning flexo
Great Lakes Label was founded in 1994 by Cook, who started with a 1950s-era tape press in his home. Today, the company is a $12-million business, operating from a 23,000-sq-ft facility in Grand Rapids equipped with five flexo presses. Great Lakes practices Lean Manufacturing to reduce waste and increase efficiency in its plant.
As Cook relates, in 2010 the company went so far as to pick up and reposition every piece of equipment in its plant to create a continuous-flow, "S" configuration—a change that resulted in a 50% improvement in output.
Great Lakes also put Lean Manufacturing principles into practice to decrease the changeover times on its newest, state-of-the-art flexo presses from Mark Andy: two Performance Series presses, one P7 nine-color and one P5 14-color (11 process color units, two screen units, and one hot-stamp unit). With their sophisticated mechanical structures, the new presses offered a changeover time of 20 minutes, versus the 45 minutes needed to change over Great Lakes' older eight-color Mark Andy press. Using Kaizen principles, Great Lakes further decreased that time to six minutes.
The icing on the cake though was Great Lakes' adoption of Kodak Flexcel NX plate technology, which Cook says enables the company to attain a print resolution equivalent to offset and digital printing.
The Flexcel NX platemaking system pioneered the use of high-definition flat-top dot technology that solves a problem inherent with traditional digital flexo platemaking, where oxygen inhibition during UV exposure results in bullet-shaped dots that are prone to surface wear and result in unpredictable inking and printing. "Because of the flat-top technology, we are able to go to a higher screen value—up to 200 dpi," says Cook, "The resolution is just fantastic, and we're not getting any dot gain."
Great Lakes first investigated Flexcel NX when one of its major clients accidentally sent them some artwork meant for an offset-print provider. Recalls Cook, "They called back and said, 'Sorry, that work has to go to an offset converter. We want to use a flexo printer, but the quality of this product has to be offset.'
"With the client's product not launching for another nine months, I challenged our prepress department to find the highest-quality plates available." So, together with its plate provider, Fusion Flexo, Great Lakes became a beta site for the Flexcel NX.
Cook recalls the client's reaction to the samples later printed with Flexcel NX technology: "They picked up a sample and told the packaging director to tell the flexo company that they'd done a really good job, but they were going to go with the offset. The director looked at them and said, 'Actually, you just picked up the flexo.'"
Koeze goes flexo
For Koeze, it was a similar "gotcha" moment. The company was using digital printing for labels for three varieties of its Cream-Nut All-Natural Peanut Butter, sold in the U.S. and the U.K. For some time, Great Lakes had produced a number of simple jobs for Koeze, but it wasn't until Great Lakes became proficient with their new presses and plate technology that they approached the company about taking on their peanut butter labels.
"They have a picture of a peanut on their label that the management team and the board are very particular about, to the point where they were rejecting labels from a digital press all the time," says Cook. "After we got good at producing labels with the new press and plates, we were able to go to them and say, 'We think we can produce your labels better than you are getting on your digital press.'"
After touring Great Lakes' plant and inspecting samples, Koeze signed on to flexo. "Our registration and our quality of print was actually better than the labels they were getting," says Cook. He adds that Koeze also appreciated the fact that Great Lakes was able to match—and even surpass—the quality of the images in their offset-printed product catalog.
Says Martin J. Andree, Director of Marketing for Koeze, "As with any print company we deal with, from boxes to catalogs, holding consistent color and registration, not only for the duration of the run, but also for all subsequent reorders is always an area of concern that we closely monitor. With Great Lakes, once we had the colors dialed in, they have reliable held color now for three years."
As for cost versus digital, Cook says that between the new press technology, Flexcel NX plates, and lean operational efficiencies—which enable higher quality at a lower cost—flexo has cut into the digital space quite a bit.
Companies in this article