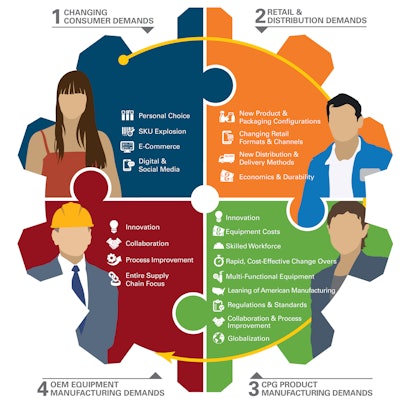 With continuing pressures from changeover challenges, the "thinning" of manufacturing and capital equipment budget management, food and beverage companies are constantly seeking innovations to improve performance and profitability, according to PMMI's 2016 Top to Top Summit report. Some innovation examples expressed by CPG survey participants include a broad range 
of machine applications, new materials, new equipment ideas, lower cost options, expanded technologies in short shelf-life products, product innovation on consumers' unmet needs, high-speed 3-D printing that can manufacture materials on the production line, lightweight packaging materials, sustainable packaging design, new organizational business models for process improvement, and technology applications for two-pronged supply chain management at global and local levels.
As part of its ongoing outreach to CPGs professionals, PMMI conducted focus groups with 65 CPG participants last year. Topics included process improvement, workforce development, machine operations, procurement, global demands, equipment trends, sustainability, maintenance, lean manufacturing and more.
In addition, PMMI's Top to Top Summit held earlier this year provided an opportunity for CPGs and OEMs to discuss not only the focus groups' findings, but also ways to address critical challenges facing the food industry.
While leveraging the Internet of Things to improve integrated food manufacturing is a key area of interest, participants are focused on operational simplicity and efficiency as the top innovation that matters the most to food and beverage manufacturers. For example, food and beverage manufacturers need OEMS to produce user-friendly processing and packaging lines because processing plants often lack staff with sufficient technical training to operate the machinery. Simpler machinery designs also help processors keep lines running and enhance maintenance operations, according to PMMI's report.
In addition, food and beverage manufacturers can improve efficiency by implementing standard work procedures to reduce equipment adjustments and maintenance as well as improve problem-solving on processing and packaging lines. 

Focus group participants also mentioned the following tools and methods to improve line efficiency:
"Kitted" OEM replacement parts 

SMED and other quick changeover technologies
"Zero line stops" implementation (no jams, machine breakdowns, set-up issues or unplanned stops through an entire shift)

Standardized machine KPIs. 

Other innovations that matter the most include improved HMIs, training and remote access solutions. Food and beverage manufacturers would like to see YouTube vidoes and other internet-based training aids on HMIs. They also require easy to use touchscreen display and self-diagnostic monitoring devices on HMIs. The wish list for end users also includes HMI integration for plant to plant collaboration and a simplification of machine code in order to access critical information.
For these innovation goals to be achieved, collaboration between CPG companies and OEMs is crucial. The key is technological equipment advances that are modular in design but simpler to operate.
Part five of this Vision 2020 series of articles will focus on workforce needs for successful production operations.
Read part one of the Vision 2020 series: Efficient changeover still one of manufacturing's top challenges.
Part two of the Vision 2020 series: The pressure is on from the 'thinning' of manufacturing.
Part three of the Vision 2020 series: Managing capital spending through the total cost of ownership.
Resources:
Download PMMI's Top to Top report.
For more information on current industry challenges and solutions from PMMI, visit OpX Leadership Network.
To attend OpX Leadership presentations on TCO, FATs, OEE and more on the Innovation Stage at PACK EXPO International in November, register here.