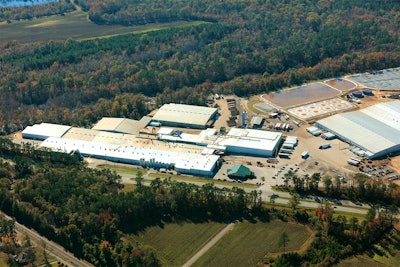 Marion Swink, President of McCall Farms, Inc. in Effingham, SC, describes himself modestly as a "simple man" and his company as "just an old farming family." However, there is nothing average about Swink or the company, which ships more than 100 truckloads of canned and fresh Southern-style vegetables and fruit each day to destinations "from Maine to Miami and from Myrtle Beach to Monterrey," according to Swink.
McCall Farms was established in 1838 by Swink's great-grandfather, James McCall, as a 2,000-acre farm growing cotton. Today the company, co-owned by Swink and his brother, Henry, is a 1.1 million-sq-ft operation with 1,000 employees that cans over 100 different products under the Margaret Holmes, Glory Foods, Peanut Patch Boiled Peanuts, and Bruce's Yams brand names, among others. McCall also produces private-label and co-packed product—approximately 15% of its business—as well as IQF (Individually Quick Frozen) fresh vegetables for retail and foodservice.
Much of McCall's growth has come from the acquisition of national brands. Its most recent purchase was the Bruce's Yams brand of yams, white potatoes, and Southern vegetables such as okra, squash, greens, and carrots in 2013. At the time, Bruce's Yams operated two production facilities outside of South Carolina. To bring all of its canning operations under one roof, as well as implement existing expansion plans, McCall Farms closed the Bruce's Yam plants and added 250,000 sq ft to its Effingham facility.
The expansion represented a $19.3 million investment and added 11 can-filling/retort lines and four new labeling/tray-packing lines. The expansion was a herculean undertaking that incredibly was accomplished within seven months, between January and July of 2015.
Says Swink, "In late 2014, I closed down both the plants. At the time, I had 100 million pounds of sweet potatoes contracted and growing, and I didn't even have the concrete poured yet. It was a real commitment.
"Now that everything is said and done, we have more than tripled the production capacity of our plant in one year. The automation and sophistication [of the new lines] are just years ahead of what was at the other plants."
'We can'
Years ago, Swink says, he got tired of being asked what McCall Farms was all about, so he created a tagline that reads simply, "We can." Although McCall Farms added IQF capabilities 10 years ago, canning is the company's primary business. It takes fruits and vegetables grown on its 2,000 acres of farmland as well as on 18,000 acres contracted throughout South Carolina, North Carolina, Georgia, and Florida and cans, cooks, labels, and tray packs them.
McCall Farms divides its processes into production lines, which handle the vegetables and fruits from the time they are delivered to the facility through canning and cooking, and labeling lines, which include labeling, tray packing, and palletizing. The expansion included a new plant, Plant C, that houses the 11 new production lines and additional warehouse space; the four new labeling lines were added to an existing area of the facility.
In specifying equipment for the expansion, Swink says machine flexibility was paramount: "We wanted the lines to be incredibly flexible because we run a wide variety of product, and by making them flexible that meant they were automated and computer-controlled."
Among McCall Farms' vegetable and fruit products are items as varied as tomatoes, potatoes, green beans, boiled peanuts, peaches, fried apples, rutabagas, spinach, corn, and many other items. Products are packaged in four can sizes: 14, 28, and 40 oz, and 1 gal. Adding further variability, secondary tray packs hold six, eight, 12, or 24 cans.
"The new plant is incredibly versatile," says Swink. "We can be running string beans on one side and collard greens on another side and sweet potatoes on one side and tomatoes the other, and we are freezing product at the same time."
Equipment on the new lines is a 50:50 mixture of existing machinery from the Bruce's Yams' plants and new equipment chosen to add flexibility and automation where needed. Given the vast number of new lines installed, Swink does not get into the specifics of each process that was automated, but says, "computer-controlled automation makes production a lot more versatile, a lot more efficient, a lot easier to control in terms of quality, a lot more reliable, and much easier to maintain and operate."
Swink says McCall Farms is moving toward equipment standardization as it replaces old machinery with new, and now has 60% of its equipment under the same brand names.
From farm to finished pallet
Pre-expansion, the Effingham facility consisted of Plants A and B, operating 19 production lines, and the Distribution Center, which formerly housed two labeling lines. With the expansion, the operation now includes three plants running 30 production lines that are served by six labeling lines located in the DC. A seventh labeling line is in the works to handle smaller runs and provide greater flexibility.
The new canning/cooking lines consist of three 14-oz can lines; two 28-oz lines; two 40-oz lines; three 1-gal lines (for foodservice); and one "swing" line, accommodating both 28- and 40-oz cans.
The process starts when a truckload of raw product is delivered to the plant and is mechanically removed from the truck and shaken to remove dirt. The product is then washed, graded, sorted, and inspected, after which it is conveyed to the prep field room, where it might be peeled, cut, diced, or blanched, depending on the product.
Meanwhile, an FMC depalletizer* depalletizes empty cans, which are conveyed to the filling room single-file on cable track conveyors. Once there, the cans are inverted and washed using a steam flush system engineered in-house by McCall Farms. Filling is done using Solbern fillers. After cans are filled with product, brine is added using Solbern briners.
Next, the cans are closed using Angelus 60L can seamers from Pneumatic Scale Angelus, after which the product is cooked in one of 21 FMC cookers from JBT FoodTech or 16 Reid horizontal retort systems from Reid Boiler Works, Inc. (360/734-6650). According to Swink, with the move, the retort operations were computerized by Beckhoff, bringing the number of operators required for the lines from six down to two.
After cooking, product is cooled using Marley cooling towers, date-coded with Hitachi ink-jet printers, palletized, and stored for two weeks for incubation. Production lines operate at 60 1-gal cans/min and 425 cans/min for the 14-oz cans.
After two weeks, the pallets of product are brought to the packaging area, where the cans are labeled using roll-through labeling equipment from Bear Label Machine Co., after which they are coded again using Hitachi printers. Tray-packing and shrink-wrapping are done on equipment from Douglas Machine Inc. and KHS, handling 60 to 65 trays/min, for smaller cans. In the last step, trays are palletized on high-level Alvey palletizers from Intelligrated and are stretch-wrapped on Lantech equipment.
Quality employees are the key
The enormous task of adding 250,000 sq ft to the Effingham plant and equipping it with multiple new lines and equipment was one that Swink says was only made possible through the quality of employees at the company. "They are a committed group," he says. "They are just good people,"
McCall Farms operators, who are now going back to the new lines and updating and improving them, do all of the line integration and maintenance. Says Swink, "We are making some very significant changes in the plant that we built in 2015 in several areas to improve on what we did last year.
"When we built it last year, we had never run a sweet potato plant. We built it more or less under the same principles that we inherited. Now we have a nice, new modern plant—a million square feet, computer-controlled equipment. But what makes McCall Farms what it is today is that it is a family business, and frankly I can't get over the quality employees that we have."
*Brand and supplier names represent those that are used most prevalently on the lines. Where suppliers are not mentioned, equipment was purchased used.
Companies in this article
Videos from Douglas Machine Inc.