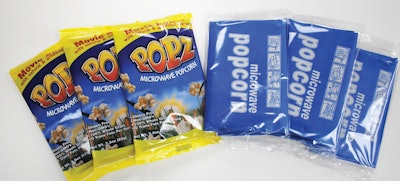 Microwave popcorn manufacturer Popz USA, LLC, Bennettsville, SC, operates five production facilities throughout the world and markets its products in more than 38 countries. Popz produces its own Popz brand, as well as private label popcorn for domestic and international retailers, and the company's Popz Microwave Popcorn Tub currently is sold through more than 3500 Wal-Mart stores across the U.S.
At its production/packaging facility in Bennettsville, the company had been packaging its popcorn on flow wrappers that were aging and losing their performance reliability. The speeds were not up to the standards that Popz needed, and machine maintenance was time-consuming. In January 2016, Popz installed two Pioneer ServoFlo® fin-seal horizontal flow wrappers from Campbell Wrapper Corp. to upgrade operations.
Jerry Cross, Popz President, notes, "We had prior experience with Campbell as a vendor for popcorn overwrapping, and we considered the Pioneer the best machine for our application. We definitely like that this equipment is made in the USA. The Pioneer is a fully servo machine with Allen Bradley PLC-based controls. Campbell technicians were on-site for the installation, and they trained our operators and maintenance personnel on proper use and care of the equipment."
Designed for economical and versatile operation, the Pioneer ServoFlow wrappers feature digital cut-off adjustment and high-precision two-way film registration. The machines can quickly and accurately accommodate frequent and wide-ranging product and/or package size changeovers via touchscreen recipe retrieval.
For date coding of the OPP film packages, Popz provided Model SmartDate X40 date coders from Markem-Imaje. Campbell staff integrated these thermal transfer printers/coders with the wrapping equipment. The oriented polypropylene films are provided by multiple suppliers.
Cross says, "We don't yet have specific annual calculations for 2016, but there is no doubt that the new wrappers have helped us increase our overall operating efficiencies, reduce maintenance costs, and cut packaging waste."
Companies in this article