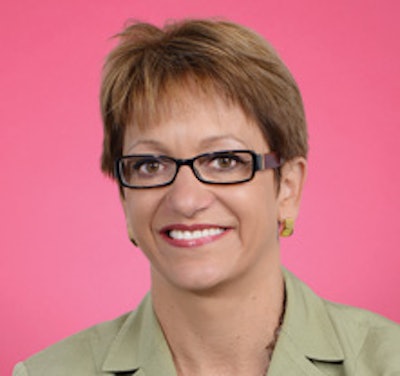 Packaging World:
What was Hershey's involvement with the early stages of the SmartLabel?
Deborah Arcoleo:
We did some consumer research in early 2014 and used those insights to develop and test a prototype of a mobile transparency tool to deliver product information. We then partnered with our trade association, the Grocery Manufacturers Association (GMA), to sponsor and help lead a large, collaborative industry team to iterate and refine that prototype, and to complete the full design for the SmartLabel program.
Why did Hershey feel such an initiative would be valuable?
We know that consumers want to know a lot about the products they buy, especially food. And the depth and variety of information people are seeking is ever-growing and ever-changing. Physical packaging is just not a suitable platform for delivering transparency, but a digital solution works really well. It's flexible, scalable, and can be updated very quickly as information needs change.
Were there any challenges involved with developing a template for the SmartLabel information that would work for all CPGs?
Our industry team was structured into four working groups for the program design: Food Attributes, Non-Food Attributes, Consumer Experience, and Data Management. We had many companies represented on each working group, and while there was plenty of discussion and healthy debate, we reached alignment fairly quickly on the specifics for a first-generation offering. We were armed with consumer feedback on the "must have" information and with feedback on the user experience from the Hershey prototype, so we were really guided by what we knew consumers wanted.
When did Hershey launch the QR code on its product packaging? How many products currently carry the label? How many will ultimately be involved?
The first items to have the SmartLabel QR codes on packaging were the 2015 holiday Kisses. We have close to 200 items with QR codes now, and are on track to complete an additional 600 items by the end of 2016. We will complete the balance of our portfolio by the end of 2017, which is around 2,200 items. The aim is for every product we make to have a QR code on the package linking to a SmartLabel landing page.
What was involved with changing such a large range of package labels to include the QR code? Were there any challenges with finding space on some of the labels? What costs were involved with designing and printing new packaging?
As we got started, we decided to add the QR code when packaging was already changing for another reason: an ingredient change, updated graphics, etc. The incremental cost to add the QR code was minimized using this approach. Because our packages tend to be smaller, we had to be creative at times to work out the placement of the QR code, but so far we have been successful.
According to the SmartLabel.org website, consumers can find the product information either by using the QR code or by doing a search via a search engine or the SmartLabel site. Does your product packaging provide both the code as well as the site address?
No, we don't print the URL web address on the package. That would take up a lot of space and would likely frustrate consumers trying to read and type it. Google, Bing, or any other search engine works well to find the landing pages, as does the Product Search tool on smartlabel.org. In addition, we'll be adding SmartLabel links on our website for the 350-plus products featured there.
What information does Hershey provide on its SmartLabel pages?
We provide all the nutritional data; ingredients along with their definitions and their purpose in the product; allergen information; the GMO disclosure; any claims or third-party certifications; any relevant safety and handling information or usage instructions; and then links to our Consumer Affairs group and our corporate website.
For CPGs considering becoming involved in the SmartLabel program, what advice would you give?
If a company is just starting to consider participating in the SmartLabel program, I would strongly encourage them to reach out to the program office at GMA and take advantage of all the information, resources, and tools we have put together for just this purpose. An important step is to gain leadership alignment on the business case for transparency and to embrace it as a core company principle. Transparency has quickly become table stakes with consumers. I would also advise getting the right cross-functional partners on the team. Many functions and departments will be touched by this, including Information Systems, Packaging, Legal, Corporate Communications, Master Data Management, Regulatory Affairs, Digital Marketing and many more. That team should begin by mapping out the key design decisions needed, identifying the source systems for the needed data attributes, and designing the process by which data will flow from source systems to web landing pages. Hershey has provided our technology solution for free to GMA for them to give to other companies that want a head start. There are also third-party service providers that have recently developed SmartLabel solutions. There are resources to help companies jump-start this, so reach out and we will help!