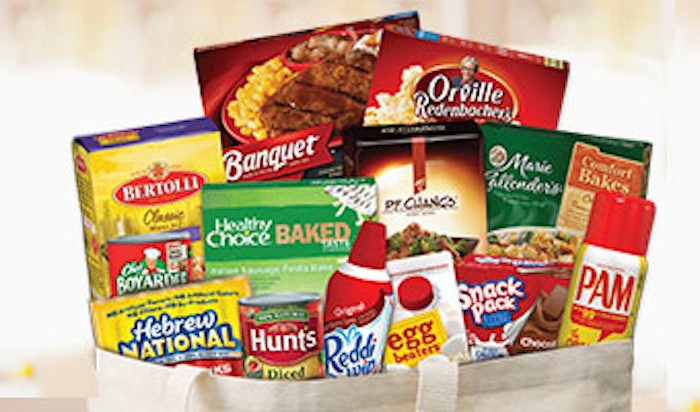 ConAgra Foods, Inc. has acquired the packaged foods businesses of Frontera Foods, Inc. and Red Fork LLC, including the Frontera, Red Fork and Salpica brands that make gourmet Mexican food and contemporary American cooking sauces.
Liqui-Box, a leading manufacturer of bag-in-box flexible packaging and pouches for a variety of global industries including dairy, beverage and food, has announced it will be acquiring Madrid-based Conotainer, a major manufacturer of bag-in-box products that specializes in the wine and beverage segments across mainland Europe.
JBT Corporation has signed a definitive agreement to pay $90 million, before customary post-closing adjustments, for the assets of Cooling and Applied Technologies (C.A.T.), Inc., a leading manufacturer of value-added food solutions, primarily for the poultry industry. C.A.T.'s focus on chillers, injection, marination, weighing, freezing and refrigeration systems complements JBT's core offerings. 
Krones, a manufacturer of filling and packaging technology, has acquired a majority interest in the business of Trans-Market Sales & Equipment, Inc., a provider of process engineering and automation solutions for the liquid food industry. The acquisition will enhance Krones' process technology capabilities and expand its North American footprint.
Cargill Animal Nutrition and Heifer International have entered into a partnership, known as the Qingshen Sustainable Livelihood and Community Holistic Development Project, to enable the expansion of 450 women-led, family-owned poultry farms in Qingshen, China. The farms will receive 100 baby chicks, training in poultry-raising methods, business training and access to nutrition expertise and veterinary support.
Rao's Specialty Foods, Inc. has named Eric Skae as chief executive officer and Jim Morano as president of the company.