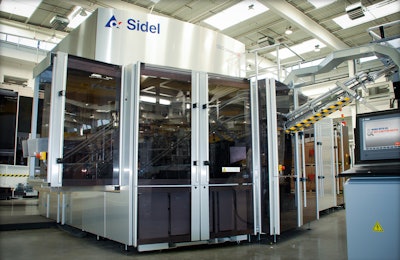 Over the past couple of years, Nestlé Waters, France, has introduced many initiatives to optimize the energy efficiency of its plants—increasing line productivity, investing in more energy-efficient machines, implementing heat recovery, sharing expertise among the engineering community and introducing new bottle blowing technologies.
Another initiative is its relationship with Sidel to employ an energy saving program that has achieved energy savings equivalent to the consumption of more than 20 ovens, representing savings of more than $1.1 million a year.
"The objective of this project was to draw on the respective expertise of both companies to reduce the energy consumption of the production equipment in Nestlé Waters' facilities throughout the world," says Lucia Freschi, public relations manager communications for Sidel.
When charged with reviewing the efficiency of Nestlé Waters' electrical energy usage, Sidel started by carrying out a pilot Eco audit on two of the bottled water provider's blow molders.
After monitoring and measuring the electrical consumption of the blowers, Sidel identified corrective energy-saving measures, including the installation of oven-top reflector lamps to maintain energy in the ovens. This achieved a reduction in the electrical power consumption required for the preform heating process equivalent to turning off 20 preform ovens.
"As we achieved around 20% in energy savings, we were really satisfied with the performance resulting from the upgrades to the first two blowers," says Stephane Bosshart, corporate chief engineer at Nestlé Waters. "So much so that based on these results, we decided to apply a full eco-program to share those best practices on all of our blowers worldwide."
By the end of 2015, nearly 130 Sidel blow molding machines were successfully converted with the oven-top reflector lamps, providing a return on investment of less than six months.
"The upgrades of oven-top reflector lamps have achieved real improvements," says Eric Baronnet, PET machine specialist for Nestlé Waters. "For example, they have delivered a reduction in the use of blower energy in U.S. plants of up to 25%."
Reducing the impact of beverage production processes on the environment and the associated operating costs are important issues for Nestlé Waters.
"Supplying packaging solutions and equipment that contribute to these sustainability goals has been a focus," Freschi says. "A recent example is Sidel using their Rightweighting concept to improve Nestlé Waters' Eco-Shape bottle. Line conversions that enable a shorter bottle neck have also allowed the production plants operated by Nestlé Waters to reduce bottle weight and achieve further savings in resources."
Find more sustainability solutions at ProFood Tech, scheduled for April 4-6, 2017 at Chicago's McCormick Place. Register now!
Companies in this article