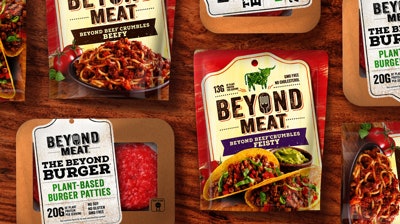 Beyond Meat, a plant-based protein brand, has introduced a bold new visual identity and package design created by strategic brand and packaging design agency Bulletproof. Explains the agency, "As we enter a new era of wellness with proactive health increasingly playing a key role in life, interest in plant-based protein is ripe among carnivores and vegetarians alike." With its range of plant-based burgers, beef crumbles, and chicken strips, Beyond Meat is aiming to take things to the next level in the category by delivering "The Future of Protein" to consumers: all the taste, texture, aroma, and satisfaction of the traditional meaty dishes they love with the health, environmental, and animal welfare upsides of plant-based protein.
Across the brand's products—including the Beyond Burger, which is currently enjoying a very successful launch—there was a goal of bringing visual cohesion and consistency to ensure consumers could easily navigate the range. Taking the findings from a strategic review of the brand, Bulletproof was tasked with creating a design that would also elevate the brand's bold and witty tone of voice on-pack, while creating real stopping power on shelf.
Working from a strategic visual platform of "Dig into Fulfillment," Bulletproof created a number of design concepts that celebrated Beyond Meat's center-of-plate offerings using dramatically shot, mouth-watering food photography within a design architecture featuring butcher's shop visual language, adding credibility and sumptuous flavor cues.
Dialing up the brand's core equities, the final design concept features a bold brand mark with Beyond Meat's signature fork featured within the rustic stamped typography and crowned by the veggie animal symbol.
Says Bulletproof, "The shopping routine for plant-based products has long been a series of sacrifices…both the food and its packaging are devoid of flavor, character, and any sense of enjoyment. These shelves are ruled by a sterile aesthetic, which favors lifeless white backgrounds and tasteless, staged food photography. We sought to shake up that status quo with a bold style that serves up a real-food experience. All the new Beyond Meat brand equities encapsulate the essential essence of the farmer's market…the engaging tag device, the boldly stamped typography, and the magnetic food photography. It's time to change how the world 'meats.'"
Adds Will Schafer, Marketing Director at Beyond Meat, "Bulletproof approached the project with real energy and passion, getting under the skin of the brand and delivering great thinking and doing. The eye-catching design is vibrant—much like the lifestyle of our consumers—with a strong pack architecture to ensure key information such as protein count and GMO-free callouts are clearly visible on pack. And most importantly, the photography showcases the delicious taste and texture of our products, providing reassurance that Beyond Meat will deliver a satisfying meal the whole family will love."
The new packaging is currently being rolled out in in a number of retail grocers, including Kroger, Walmart, Target, Whole Foods Market, Sprouts Farmers Market, Publix, HEB, Safeway, Vons, Ralphs, and others.
Companies in this article