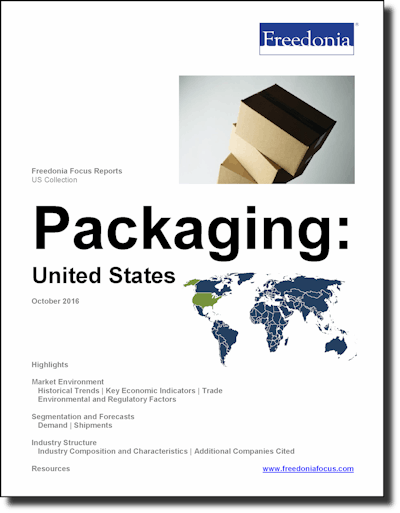 Packaging demand in the U.S. will rise 3.5% annually through 2020, predicts Freedonia in its new report.
Gains will be supported by increases in nondurable goods output and growth in consumer spending, according to the industry market research firm. It projects food packaging to remain the largest market segment, but expects pharmaceutical packaging demand to rise 5.4% per year over the forecast period, showing the fastest pace among the leading markets.
Pharmaceutical manufacturers seek less costly packaging, says the report, which notes that advances in pharmaceutical packaging demand will continue to be driven by increases in pharmaceutical shipments.
"Growth, however, will trail the upward pace of drug shipments as drug manufacturers remain more sensitive to package pricing than are consumers to medication prices," says Freedonia. "Profit pressures resulting from competing generics and the drug benefit schemes of managed care providers will continue to prompt U.S. pharmaceutical manufacturers to pursue improved packaging efficiencies. Nonetheless, evolving consumer and medical provider preferences for unit-dose and other convenient drug delivery formats will boost demand for high-value-added medication containers."
The report notes pharmaceutical packaging demand is measured in terms of the value of finished packaging sold by merchant companies and produced or assembled internally by pharmaceutical manufacturers and contract packaging firms.
The report says the geographic scope of pharmaceutical packaging demand includes Puerto Rico, indicating, "most major multinational drug makers operate production facilities and consume a significant volume of packaging in that territory."
Companies in this article