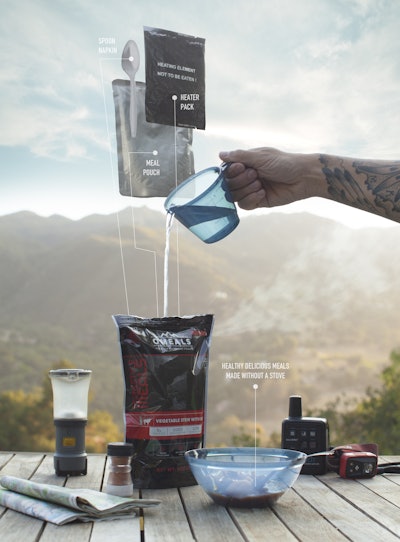 As an outdoor sports enthusiast, world traveler, and defense industry supplier, Saul Mishkin wanted to develop portable, convenient, shelf-stable, nutritional and good-tasting food products. He eventually started military-grade ready-to-eat brand XMRE that services institutions and preparedness markets like the U.S. Military. This gave him the experience and tools he needed to found OMEALS, which is focused on the outdoor market.
OMEALS Homestyle Meals contain everything in one pouch: food pouch, heating element and utensils. Users open the resealable bag and remove all contents. Then they tear open the heating element and insert it back along with the food pouch into the OMEALS bag. After adding 3-5 ounces of any liquid, users let it steam for 3-5 minutes. After opening the resealable top, users let the heat exhaust and cool for one minute, and remove and open the food pouch.
"The bag design allows the steam to circulate inside and exit the bag through the steam vent in a way that regulates the internal pressure for a safe use and efficient heating process," Mishkin says.
The R&D to develop the pouch was done in house by sourcing components and options for materials and packaging from current suppliers using similar materials and configurations in use in certain military food products, and with other domestic suppliers to find the right layer configurations, materials and sealants to support the inner reaction in a safe process.
Mishkin says the packaging needed to be: retail ready and appealing to a consumer; functional; and able to perform at high temperatures while keeping the process safe. A big challenge was how to design the right heating element to be efficient, safe to use and harmless for the environment, he explains. 
The food pouches are a combination of a PET polymer, foil, nylon and cast polypropylene. The outer package is a combination of polypropylene, PET polymer, polyethylene and other proprietary added materials. The heating element pouch is made of non-woven nylon with ultrasonic sealing and a special coating. The heating pad is for one-time use and is safe to dispose of anywhere.
OMEALS' packaging is designed to not only heat the food for the customer, it is also designed to act as a waste unit for the OMEALS components and all other waste customers pick up on their travels.
The portion-controlled food allows OMEALS to target specific nutritional requirements for different situations. In fact, it is currently working on some projects in the Middle East in support of charities and NGOs that are supplying food to refugee camps. For more information, visit www.omeals.com.