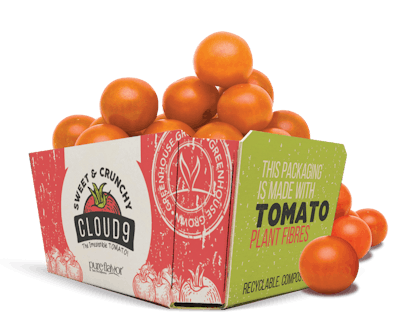 Pure Hothouse Foods Inc. is a Canadian grower, shipper, and marketer of greenhouse- grown vegetables and value-added Living Lettuce sold under the Pure Flavor name across North America. Pure Hothouse Foods has recently introduced their new Cloud 9 snacking tomato brand in solid board packaging enriched with tomato plant fibers, produced by Solidus Solutions.
With this packaging, Pure Hothouse Foods has become the first Canadian company packing tomatoes in their own plant fibers, contributing to a circular economy.
In France, Idyl, a company growing tomatoes, melons, Mediterranean fruit, vegetables, and fresh cut herbs, has also begun using packaging enriched with tomato plant fibers. Based in the south of France, Idyl markets its own production as well as salads from Provence and a whole range of organic fruits and vegetables under the Tribu Ecolo (Ecological Tribe) brand. Idyl has developed a department specializing in the marketing of organic fruit and vegetables. As such, the company is constantly looking for new solutions to reduce its impact on the environment. They were very interested when they learned that Solidus had developed a process to manufacture solid board that includes tomato plants fibers.
Idyl is now packing their organic tomatoes in Solidus' trays enriched with tomato plants fibers. With Tribu Ecolo, Idyl wants to display a strong trademark: the trademark of partnership between agriculture and nature, the trademark that federates farmers, their suppliers such as Solidus and consumers, with the desire to combine economy and ecology.
Previously Solidus has produced 1.5-kg, 3-kg, 5-kg, and 10-kg solid board tomato trays, enriched with tomato plant fibers and 250- to 500-g tomato punnets for consumers. With introduction of the Tribu Ecolo and Cloud 9 packaging enriched with tomato plant fibers, Idyl, Pure Hothouse Foods, and Solidus say they have made a step forward in turning plant waste streams into valuable and recyclable raw materials.
Companies in this article