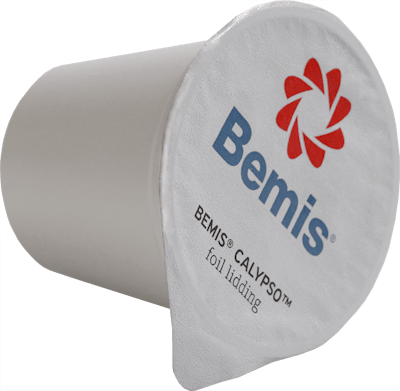 According to Mintel, 74% of consumers want a package that is easy to open. Today, many yogurt customers have confirmed that existing foil lids have major limitations: they are difficult to open; susceptible to tearing, shredding, puncturing; and even cut consumers, explains Dorian Daniels, marketing manager, Bemis Company.
"In response, Bemis has introduced Calypso foil lidding. It has greater than twice the tear resistance, resulting in a lid that peels perfectly in one piece, every time. It also has 50% greater puncture strength than traditional Bemis foil lidding, which helps protect product throughout its life. Additionally, Calypso's softer material and edges reduce the risk for cuts to both consumers and manufacturing workers," says Daniels.
Replacing heavy-gauge foil found in most yogurt lids today, Calypso is a multilayered material structure that uses significantly less foil than a typical foil lid, while improving quality and performance. Daniels says it also has less impact on the environment with 35% lower carbon dioxide and 10% less energy levels compared to traditional Bemis structures.
"Calypso is a universal structure that can adhere to most cupstock, and through the validation process, we have been able to maintain run speeds on existing equipment," Daniels explains. "It is perfect for yogurt and other cultured dairy products. Additionally, we are in the process of leveraging it for other food, nonfood, and medical products that use foil lidding."
Companies in this article