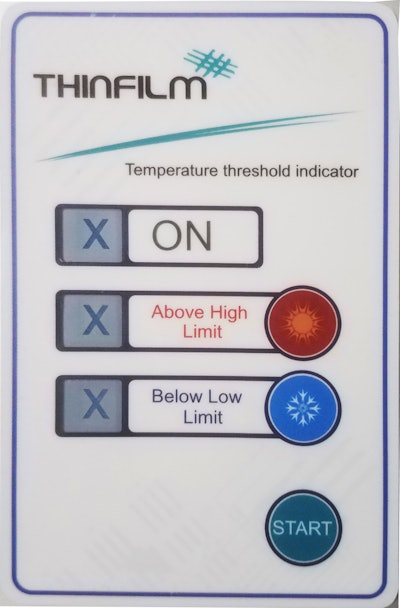 The new year will begin on a high note for Thinfilm, a Norwegian developer of printed electronics and smart systems. In the first quarter, the company plans to make available samples of its new smart temperature labels for temperature-sensitive products such as dairy, fresh seafood, fresh meat/poultry, pharmaceuticals/vaccines, floral, and specialty items like wine and chocolate.
Thinfilm's temperature sensing label is different from other products in the market in several respects," explains Erwan Le Roy, EVP business development, GM NFC Solutions and Smart Sensor Products, Thinfilm. "First, it fills a market gap along the cost/functionality spectrum between chemical-based tags on the low end and time/temperature loggers on the high end. Second, Thinfilm's credit-card sized label is thin (1mm weighing 7g) and flexible, which allows for application to curved surfaces and does not impact the profile of secondary packaging during shipping. Third, it does not require any special handling such as cold storage prior to use. And fourth, Thinfilm's labels leverage proprietary printed electronics technology that delivers key cost and scale benefits."
The label is a dual-threshold (high/low) temperature indicator that is placed on either primary or secondary packaging via an adhesive backing. A "start" button on the label is pushed to activate the label's battery and essentially turn the label "on" just prior to, or at the point of application.
As a product travels through the supply chain, the label identifies excursions that occur outside of a predetermined temperature range and communicates this information visually in the label's display. A future release of the product is planned through which excursions and related data (location, date, time) can be captured by tapping the label with an NFC-enabled smartphone or reader. Data will be displayed on the smartphone/reader and will also be stored in the cloud. The future version of the label will also feature a visual indicator via the electrochromic display.
As such, information is viewable by employees and partners along the supply chain, and can also be accessed by management/analysts through cloud-based software.
"Having this information assures the retailer at the point of receipt that the product maintained the correct temperature range throughout the supply chain," says Le Roy.
Thinfilm leverages roll-to-roll production technology – in many ways similar to printing presses used for newspapers and magazines – to manufacture the labels quickly and in ultra-high volumes. At end of use, the single-use temperature sensor is disposable and can be placed in the general waste stream. Commercial production is anticipated to begin by Q3 2017.
Companies in this article