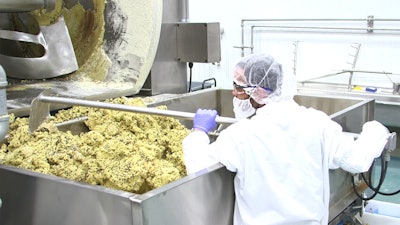 Denali Ingredients has been developing high-quality chocolate coatings, fudge sauces, powders, fruit variegates, stabilizers, extruded products, flakes and other ingredients for the ice cream, bakery and foodservice industries for the past 30 years.
In September 2006, Denali Flavors, Denali Ingredients' sister company and owner of Moose Tracks ice cream, purchased the former CoolBrands and Eskimo Pie ingredients manufacturing facility in New Berlin, Wis., and renamed it Denali Ingredients. Since then, it has undergone $6 million in upgrades and additions, tripled its staff and now features 110,000 sq. ft. of production, warehousing and offices in two buildings.
It's this growing demand that also prompted the need to add another 13,000 sq. ft. to the 40-year-old building. The initial $5.5 million buildout included a complete refacing of the exterior façade as well as interior renovations to the reception area, offices and conference rooms, says Jon Vander Woude, director of sales.
Denali Ingredients partnered with Oliver Construction Co., Oconomowoc, Wis., for what was the first phase of a larger $12 million investment. Denali plans to invest another $6 million in its second phase of expansion over the next 24 months, a move that will add new production capabilities and new jobs.
Most vital to its customers is the new R&D Innovation Center laboratory, which is where Denali staff members collaborate with clients to research and develop new and creative ingredients and flavors.
Additionally, the expansion called for an allergen-controlled process area for new product offerings, expanded hot process (kettle) throughput capabilities, 4,000-sq.-ft. cold storage areas and new walk-in R&D freezer storage space.
The expansion also included a state-of-the-art pilot lab, complete with full-scale ice cream simulations. "This is really key, as our dairy customers can experience their concepts come to life in every step along the way in a small scale," adds Vander Woude. "It means no interruptions to their own operations, yet they get the proof of concept they need to take their ideas seamlessly to production."
The renovation also entails a number of energy saving features such as motion sensor lights, expanded recycling capabilities and more. "In the decade since Denali bought this business, volume has more than doubled. Staff has tripled and we plan to add another 40-50 [employees] over the next five years," says Vander Woude.
The New Berlin headquarters manufacturing facility is HACCP, GMP and SQF Level 2 certified, features equipment designed to run a variety of pack sizes for flexibility and convenience, produces daily sensory evaluations of samples from each production shift for taste, texture, aroma and appearance, and thoroughly tests for microbiological integrity by a third-party lab prior to release.