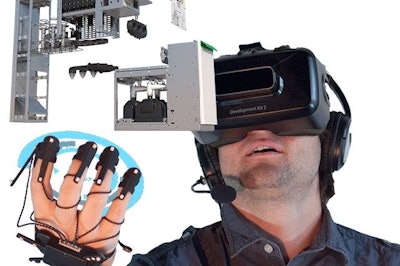 Over the last year, the automation industry has seen a spate of announcements from suppliers that are augmenting their asset management portfolios as part of workforce and system maintenance strategies. The latest news comes from Schneider Electric, which announced the acquisition of MWPowerlab S.r.l., a maker of 3D real-time technology based in Italy.
Immersive technology and operator training simulators (OTS) are becoming more important to manufacturers trying to maintain complex equipment and processes. And this move by Schneider Electric signals the company's commitment to building out a comprehensive suite of software services in this area. The acquisition adds advanced virtual reality (VR) and augmented reality (AR) technology to the company's existing simulation and Enterprise Asset Performance Management (APM) portfolio.
MWPowerlab has a suite of proprietary technology that includes immersive virtual reality, an industrial plant simulator, mixed and augmented reality to analyze the data around the operator, as well as a custom immersive holoroom. The technology works with a variety of VR-ready headsets including Microsoft HoloLens, HTC Vive and Oculus Rift.
Terms of the deal were not disclosed, but Schneider Electric and MWPowerlab have been working together over the past five years to optimize VR and AR for industrial applications, the companies said in a statement. The focus has been on increasing safety standards, improving labor effectiveness and increasing asset performance on a global scale. This successful working relationship is expected to continue post-acquisition, with the MWPowerlab team—consisting of engineering, gaming and IT professionals—bringing valuable domain expertise to Schneider Electric to drive continued innovation and digitization of the entire value chain.
"This acquisition ensures Schneider Electric customers have access to the most advanced technologies for a positive user experience," said Tobias Scheele, senior vice president of software, global solutions at Schneider Electric. "MWPowerlab brings best-in-class technology and highly skilled, motivated people that can significantly enhance the value of our Schneider Electric software portfolio."
Companies in this article