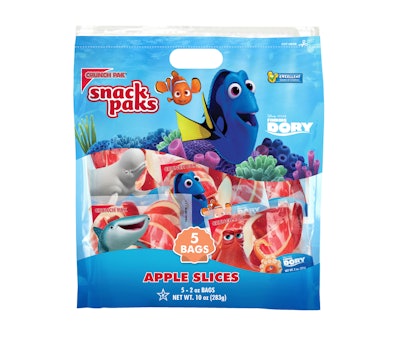 Crunch Pak has introduced its pre-sliced, portioned apple snacks in a new 10-oz breathable, stand-up film bag that Director of Brand Marketing and Product Innovation Krista Jones says offers easier storage, greater portability, and better marketing potential than its clamshell predecessor. Crunch Pak, of Cashmere, WA, has been providing retail customers nationwide with fresh sliced apples for 16 years, producing nearly 1 billion apple slices per year at its two plants.
Until recently, its Crunch Pack with Disney and Crunch Pak Organics products were offered in bagged portion packs held in a plastic clamshell. "When we identified a need for more compact packaging, we knew we had to create something to save space in the consumers' refrigerators as well as shelf space at the store level," explains Jones.
The new, breathable bag in a proprietary construction allows consumers to store the product in places where a clamshell would not fit. And, with the addition of a handle on the bag, the apples are easier to take on-the-go as well.
As for shelf impact, with a gusseted bottom, the package stands upright on the shelf for a more compelling presentation. The bag also provides more space for graphics than the clamshell, allowing Crunch Pak to tell its story and showcase the product.
Jones notes that the new stand-up bag, which holds five 2-oz bags of sliced apples, provides the same 21-day shelf life as the clamshell, reducing shrink and increasing efficiency throughout the supply chain.
Says Toney Freytag, Crunch Pak Senior Vice President, "We feel confident that consumers will be eager to get their hands on our new Bag in Bag products for multiple reasons. We are saving them time by pre-slicing their apples and making the bags more portable for on-the-go snacking, and their kiddos will want to enjoy their afternoon snack with their favorite characters. It's a win, win for everybody."
Crunch Pak introduced the bag at retail in March 2017 in two versions featuring Disney characters from Star Wars and Dory; all other multipack bags will be available in time for the back to school season.