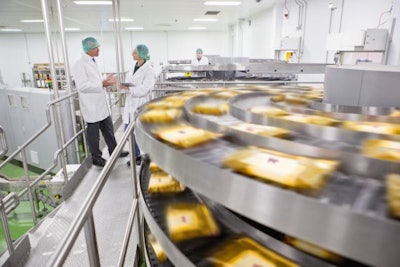 The consumer megatrends shaping the future of the food industry range from local sourcing to on-the-go eating to a rise in organic foods and clean labels (understanding the ingredients on the food labels). While these things may seem extraneous to the manufacturing of food, they actually have a tremendous influence on the way products are made.
According to a new market research report from PMMI, The Association for Packaging and Processing Technologies, the move toward healthier and more convenient options is an opportunity for OEMs. The report, called 2017 Trends in Food Processing Operations, analyzes intelligence from 40 interviews and 150 references. The findings reveal that markets, channels and technology are changing the way consumers will purchase food over the next 15 years, which may bring significant change to manufacturing and sourcing.
To meet consumer demands, there is a need for food processors to reformulate products by using healthier sustainable ingredients, adding protein, vitamins and antioxidants to food, and labeling products as allergen free, gluten free, non-GMO, or organic and antibiotic free. Furthermore, sugar is increasingly being eliminated or reduced in foods, while steps are being taken to extend the shelf life of food. And top of mind for all is preventing counterfeit goods from infiltrating the supply chain. If there is a need for a recall, manufacturers need to act responsibly and proactively.
Taking all of these market dynamics into account, manufacturers predict increasing the use of automation and robotics to bring more flexible machinery in to efficiently run production lines. Four out of five companies have more than 100 product SKUs and over half predict SKUs will continue to increase, driving the need for faster changeover.
As a result, nearly half of the people interviewed said they will be spending more on capital equipment in the next 12-24 months. And half of the companies forecast needing processing equipment, while three out of four companies will be looking for packaging equipment. Interestingly, many companies use the same procurement team for processing and packaging equipment utilizing a combination of engineers and central procurement.
"We would like machines that give us the flexibility to be more agile in the production process and allow us to be more reactive to retail changes in real time," said a director of manufacturing and engineering at a beverage company.
That means there needs to be new functionality in the equipment. Aside from increasing use of automation and robotics, end users recommend processing machinery improvements that focus on cleanability, flexibility in changeover and operator safety, the report said.
From a technology perspective, that translates into faster read times for vision equipment, self-diagnostics for preventive maintenance and more connectivity and interoperability between systems. Companies are also looking to the Industrial Internet of Things (IIoT) and data collection to better manage production schedules, resources, labor and maintenance.
Another key consideration is the Food Safety Modernization Act (FSMA). Beyond flexibility, safety is a priority. With that in mind, here are some of the important features of future machinery:
Must comply with stringent food safety regulations.
Highly selective sorting to reduce food waste.
Smaller batch processing machinery and more compact manufacturing.
Inspection equipment for detection and separation of ever smaller foreign particles.
Highly flexible equipment with easier changeover.
Greater automation equipment combining a number of operations into one.
Machinery that reduces and conserves energy usage.
Not surprisingly, many of these machines will need to be adapted to specific needs, and therein lies the opportunity for OEMs. According to the report, over half of food manufacturers use customized equipment and look to the OEM for integration.
Companies in this article