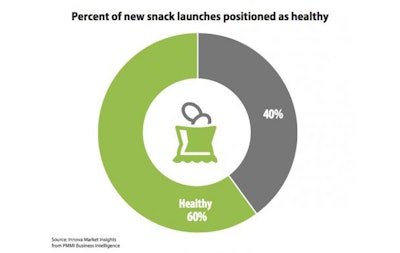 One process engineer said, "Success is coming up with the next big snack for time-impaired consumers looking for healthier and flavorful options."

The trend for on-the-go eating continues, and consumers are looking for portion control and bite-size convenience. Sugar is increasingly being eliminated or reduced in foods, corresponding with a rise in natural sweeteners.

Blending of food types continues. Beef jerky counts as a meat product, a snack, and a shelf-stable food!

Four out of five Americans say they snack at least once a day. In 2014 73% of Americans reported snacking, Just two years later, in 2016, 83% polled said they consume snacks. Forty percent of snacks are consumed away from home.

Growing snack offerings include popcorn, meat snacks and thin and crispy crackers/cookies/chips. Innovations include breakfast all day (bacon, yogurt, cereal). Chips is a growing category, "energized" with ginseng and guarana, and made from alternative to potatoes such as crunchy mushroom snacks, gourd chips, squid chips, etc. New flours are emerging made from lentils and crickets!

Pushing the envelope? How about snacks paired with alcohol (sea-salt flavored corn flakes to be eaten with beer!) and sushi-shaped snack cakes meant to be eaten with chopsticks!
Download the full report here