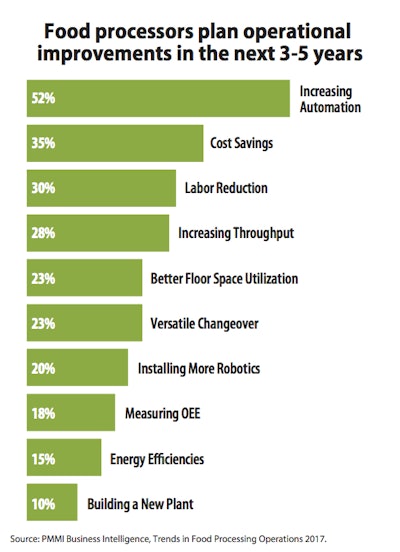 Companies interviewed are currently using real-time data to reduce failures, increase output, and improve batch tracking. Software systems used to collect and exchange data gathered from sensors include: enterprise resource planning (ERP), manufacturing execution systems (MES), systems, applications and product (SAP), material requirements planning (MRP), warehouse execution systems (WES), and warehouse management systems (WMA).
One out of five respondents reported using a proprietary system. Plant data is used in a variety of applications including: identify causes of downtime, increase throughput, batch control, optimize waste, raw material inventory, productivity trend analysis, labor staffing, lean resource planning, monitor process rates, scheduled repairs and financial planning.
An engineering manager for a dairy told PMMI Business Intelligence, "We have custom software that pulls data from machines and links it to the PC and PLC. We want to be able to track any issues to the exact batch."
Source: PMMI Business Intelligence: Trends in Food Processing Operations, 2017.
Download the entire study here.