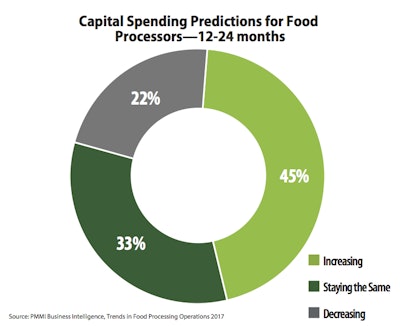 Only 22 percent of those polled said they would be spending less, and the primary reason for this was because they had just finished with large capital expenditures.
In the next three to five years companies surveyed predicted needing new processing equipment in the next three to five years, including: mixers, pumps, custom fillers, sorting, batching, oven fryers, egg graders, bowl lines, retort, cookers, grinders, glaze fillers, homogenizers, milling, whey processing, waste processing and thermal processing.
Many of these companies (78%) also see new packaging equipment purchases three to five years down the road, including: palletizers, case packers, horizontal and vertical form/fill/seal, wrappers, vision systems, de-palletizers, labelers, ink jet coders, handling equipment and robotic tray loading.
Most food processors interviewed said they are focusing on expanding the use of automation, integrating operations for increased throughput and advances in the manufacturing process, as well as better floor space utilization.
Source: PMMI Business Intelligence: Trends in Food Processing Operations, 2017.
Download the entire study here.