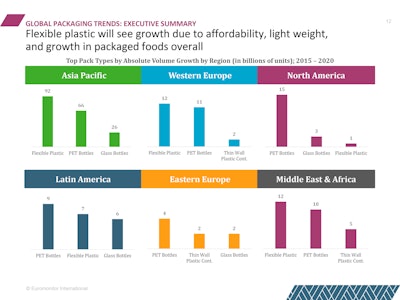 Today's health-conscious and eco-friendly consumers are driving development and innovation in global packaging trends that align with their desire for healthy, premium and sustainable products, according to a new report from Euromonitor and PMMI, The Association for Packaging and Processing Technologies.
The 2017 Global Packaging Trends Report finds that consumer interest in health and wellness is shaping the packaging landscape. For example, the increased consumption of bottled water boosted the significant growth of PET bottles from 2010-2015. Therefore, the study predicts that bottled water is the category with the largest growth opportunity, forecasting a 7.5 percent growth rate and 47 billion units sold from 2015-2020, while PET bottles will grow 5 percent to 66 billion units sold in the same period.
"PET bottles offer brands the opportunity to differentiate themselves on the shelves to attract consumers with more unique labeling and product information," says Gordon Letschert, associate consultant at Euromonitor.
As consumers shift to healthier lifestyles, yogurt and sour milk products are also strong performers in many regions. As a result, thin-wall plastic containers, PET bottles, brick liquid cartons and shaped liquid cartons are seeing significant growth in this category, according to the study.
Consumers in many regions are not only seeking healthy products, but they also want snack products in small, portable packaging that cater to their busy lives. For example, the study finds that plastic pouches, particularly stand-up pouches, in North America are one of the fastest-growing packaging types for confectionery products, nuts, seeds, mixes, and processed or dried fruit.
"Plastic pouches align with consumers' demands for convenient packaging types that offer portion control and also fit consumers' on-the-go lifestyles," Letschert says.
Many of these healthy consumers are also seeking premium products as well. And packaging is following suit. Glass bottles are popular in Latin America for premium beers and bottled waters. In North America, the glass bottle is experiencing a resurgence in craft beer, carbonates and juices because it supports their premium positioning as well.
"Metal beverage cans [in North America] will lose share mostly due to glass bottles regaining share in key categories such as beer and premium carbonates," Letschert says.
Consumers are also demanding more sustainable packaging in mature markets like North America, Western Europe and Asia — but for very different reasons. For example, because consumers in North America are concerned about ensuring that their food is sustainably produced, they are extending that criteria to packaging, too. On the other hand, manufacturers in Western Europe prefer sustainable packaging in order to reduce costs and cater to small households that want smaller products and packaging sizes.
"Cartons benefit from an environmentally sustainable perception among consumers," Letschert says.
The use of flexible plastic packaging is also growing because it's lightweight, recyclable, affordable and meets the increasing demand for packaged foods in developing countries. For example, as economies in the Middle East and Africa improve, consumers are purchasing more packaged foods and beverages. Flexible plastic packaging will continue to be important in Latin America, where cost-conscious consumers with reduced disposable incomes purchase products either in smaller packaging sizes or bulk sizes and multipacks to stretch their money. And manufacturers in Asia Pacific are moving away from glass and metal packaging and toward flexible plastic packaging to accommodate single-person households that want products in single-use, value and convenient packaging sizes.
While the demand for packaged foods and beverages is growing around the world, mature markets like North America and Latin America will see modest growth, according to the study. The best chance for significant growth in packaging lies in the developing markets, where the economies are improving and urbanization is taking hold. The study points out that Asia Pacific offers the largest packaging growth opportunity. There flexible plastic is the most popular packaging type, followed by PET bottles and glass bottles.
"Asia Pacific is by far the fastest growing region due in large part to its immense population," Letschert says. "The forecast growth for Asia Pacific for packaging overall is 4.3 percent, which accounts for 293 billion units sold (from 2015-2020)."
To download the 2017 Global Packaging Trends Report, please visit the PMMI website.
Companies in this article