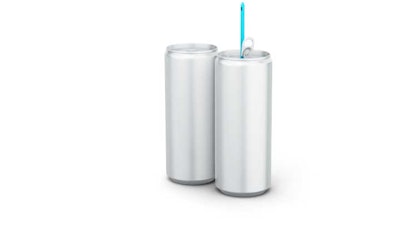 Strong competition in the energy drinks market has made companies look for new ways to attract customers. MAG Dystrybucja, one of Poland's largest beverage distributors, has found a way to stand out by integrating a straw into its MPower brand. The cans, produced by Ball Beverage Packaging Europe, feature Strawster, a self-activated straw that appears when the tab of the can is engaged.
The whole mechanism is placed in a standard 250-ml slim can. Once the drink is filled and the can opened, the straw pops out of the can, and the straw is telescopically pulled out by the user.
"Strawster was not specifically developed for one customer, but more to serve a wider goal: How can a brand owner stand out at the point-of-sale with delivering a unique and value-added drinking experience?" says Arjen van Zurk, marketing manager for Ball Beverage Packaging Europe.
It is expected that the can and straw will make energy drinks more accessible to consumers, including women, who have traditionally found little appeal in the energy drink category. "Strawster is also perfect for other beverage categories, such as ready-to-drink coffee, juice, etc.," says van Zurk.
When asked about its recyclability characteristics, van Zurk says the straw doesn't impact can recycling: "Most can recycling plants will have systems to remove 'nonaluminum' prior to the aluminum being re-melted. Overall, cans represent a perfect example of truly recyclable packaging and a product that fits a circular economy model very well. That is why metal cans are the most recycled containers in the world. In Europe, the recycling rate for aluminum cans is 71 percent."
Van Zurk says there have been several product launches featuring Strawster in various countries, with the most recent one in Switzerland.
Companies in this article