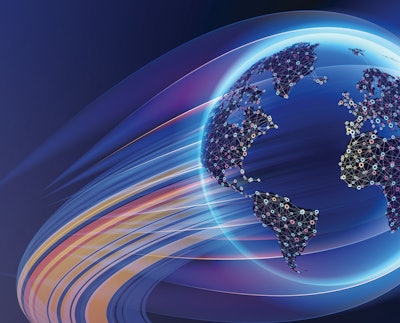 There is no one-word description or concise phrase to sum up the challenges and triumphs of the global food and beverage manufacturing industry. The marketplace continues to evolve toward e-commerce, healthier eating, more snacking occasions, clean labels and locally sourced goods. In addition, the convenience and single-serve trends show no sign of abatement.
The recent blockbuster announcement that online retail giant Amazon will purchase Whole Foods Market for $13.7 billion shocked many food industry insiders. Whether or not the majority of consumers will buy the bulk of their groceries online any time soon remains to be seen. But with the blurred-line habits of consumers still shopping at traditional supermarkets while simultaneously gravitating toward restaurant delivery of meals and the online purchase of meal kits, online grocery buying is certain to gain momentum for those seeking convenience. Walmart still remains the retail grocery leader, and it has made headway into meeting consumer demands with its Neighborhood Market line, featuring the quick, fresh foods that shoppers crave.
All of these consumer trends have traditional food and beverage manufacturers racing to keep pace with market changes as their margins erode. According to a recent report in Forbes, two-thirds of the top CPG brands saw sales decline in 2015, and the top five lost $13 billion in sales. People are not eating less, the report says, but they are choosing brands that more closely mirror their needs and values, says author Phil Lempert.
According to PMMI's "2017 Trends in Food Processing Operations" research report, consolidation in the food industry has increased, leaving fewer global producers. Over the next 15 years, PMMI's research predicts the likelihood of much shorter supply chains because of transportation expenses and the growth in local production.
In the battle to gain market share, the world's leading 250 food and beverage manufacturers listed in this issue are implementing the following product formulation changes:
Cleaner labels
Plant-based products
Sugar reduction
Authentic foods
Personalized nutrition to fill consumer needs beyond hunger and cravings
Blending of industry boundaries
Seeds and grains, such as quinoa, chia or flax.
Maintaining relevancy
According to Euromonitor's report "How We Eat: The Changing Face of Global Mealtimes," changing lifestyles have led to a breakdown in the structure of meal times, with more people snacking and grazing throughout the day, rather than eating three traditional meals per day. It has also led to a blurring of the boundaries between snacks and meals. Snacks are no longer connected to confectionery or potato products, but are more likely to include yogurts, meat snacks and vegetables and more likely to be healthy, protein-centric and fresh. As snacking widens and snack/meal times become blurred, Euromonitor reports that confectionery companies are moving into new areas. For example, Hershey acquired U.S. beef jerky manufacturer Krave, while Mars launched GoodnessKnows snack bars in the United States during 2015.
To meet the growing demand for fresher foods, processed food makers need to come to terms with a rising product category called grocerants, defined as prepared, ready-to-eat food items that are usually sold in the deli department of a supermarket. Examples include rotisserie chicken and prepared sandwiches and salads.
According to Paul Bulcke, Nestlé's chairman of the board, Europe's leading food and beverage maker is focusing on organic growth and permanent innovation for its continued success. At an investor briefing earlier this year, Bulcke said it is important to be relevant to what consumers want, whether that is through new ways of engaging them or through the use of e-commerce sales.
Embracing the fourth industrial revolution and the changes it will bring are key challenges for major food and beverage manufacturers, and Nestlé is no exception. At the Global Business Summit of the Consumer Goods Forum held in Berlin in June, Nestlé CEO Mark Schneider said, "Size does not protect you from the winds of change." As a result, Nestlé is focusing on:
Health and wellness as consumers use the internet to educate themselves on these topics,
The resurgence of locally produced goods because local brands have consumer trust, and
Transparency because consumers want to know how products are made.
Other challenges to leading food companies continue to come from the rise of small business owners who are breaking down traditional startup barriers and leveraging the power of the internet to grow their businesses.
"The status quo is not an option," Schneider stated at the summit. He told the audience how Nestlé found success in the pet food business by engaging consumers not only by responding to pet nutritional questions online within 30 minutes, but also by changing the packaging size to accommodate their e-commerce buying needs.
The massive food and beverage company also found renewed success with its iconic Lean Cuisine line. After suffering slumping sales for years, a rebranded Lean Cuisine transformed its diet-meal image into one that provides a health and wellness connection and partnership with the consumer. Nestlé had another success story with Azera, a super-premium instant coffee that gives consumers a coffee-house experience at home or on the go. First launched in the United Kingdom, the product features convenience packaging and an upscale taste. Nestlé plans to roll out the new brand in 18 European countries starting this year.
PepsiCo takes the challenge, Suntory stays the course
According to PepsiCo CEO of North America Al Carey, the company is also embracing the health and wellness trend. In a presentation to analysts earlier this year, Carey said consumer interest in healthy products is clear, and the company will continue to innovate in this area.
Products introduced this year include LIFEWTR, Tropicana probiotic, and low-calorie carbonated soft drinks IZZE and LEMON LEMON. The company also acquired KeVita, maker of fermented probiotic and kombucha beverages.
On the snack side of its business, PepsiCo's Frito-Lay division offers various veggie and multigrain chips; Smartfood Delights, which is a low-calorie popcorn product; and the Simply line of snack-food products, which are non-GMO, organic and feature a clean label.
According to Suntory Managing Executive Officer Haruhisa Inada, his company will "reinforce core brands and offer products with new value." Its beverage brands have been revitalized to enhance their appeal to consumers.
The company has also introduced new products. "We have developed a PET bottle version of Boss for contemporary office workers, who want to take more time enjoying coffee while they work and carry their coffee with them throughout the day," says Inada. Another new product is the Suntory Tennensui PREMIUM MORNING TEA Lemon.
Inada agrees that the natural, healthy and RTD tea and coffee segments are growing significantly. However, Suntory has retained its strength in this area because the Japanese market was first to create these new beverage trends.
"In Japan, water and noncarbonated drinks already make up over 80 percent of the beverage market composition, which is high compared to Europe and the U.S.," Inada states.
Suntory was able to significantly increase its profit by focusing on high value-added products, small-format products, efficient investment in promotion, cost reduction and increased profit in the vending machine business.
Reinventing the center store
Also cashing in on the health and wellness trend, Campbell Soup announced in July its acquisition of Pacific Foods of Oregon for $700 million. Founded in 1987, Pacific Foods produces organic broth and soup, shelf-stable plant-based beverages, and other meals and sides.
Pacific's products and approach are closely aligned with Campbell's real food philosophy, according to a company statement. The acquisition will help Campbell's efforts in the health and well-being segment and in reinventing the center store.
"This acquisition is consistent with our purpose, 'Real food that matters for life's moments.' The acquisition allows us to expand into faster-growing spaces, such as organic and functional food," says Campbell Soup President and CEO Denise Morrison. "It advances our strategic imperatives around real food, transparency, sustainability, and health and well-being."
Pacific Foods has more than 500 employees and operates a certified organic plant. Campbell Soup plans to operate the company out of its existing Tualatin, Oregon, location and expects to expand distribution, boost marketing support to engage consumers, and invest in R&D and supply chain operations. However, the company will maintain its farm-to-table approach with former CEO and Co-founder Chuck Eggert staying on as a supplier of key ingredients through his family farms.
This is Campbell's fifth acquisition in recent years. The company acquired Bolthouse Farms in 2012, organic baby-food company Plum and biscuit company Kelsen in 2013, and fresh salsa and hummus maker Garden Fresh Gourmet in 2015.
While Campbell's recent acquisitions have not been in the beverage segment, many of the world's top companies are finding success in innovative drink production. This trend is reinforced by PMMI's "2017 Trends in Food Processing Operations" research report. Lest we forget which company is No. 1 on the Global 250 list: The Coca-Cola Company with a whopping total of nearly $115 billion in 2016 retail sales.
To see the rankings and other statistics of the companies featured in the Global 250 Food and Beverage Manufacturers list and Global 50 Alcoholic Beverage Manufacturers list, please visit www.profoodworld.com/global-250 and www.profoodworld.com/global-50, respectively. You will be able to search and sort the statistics in these interactive charts.