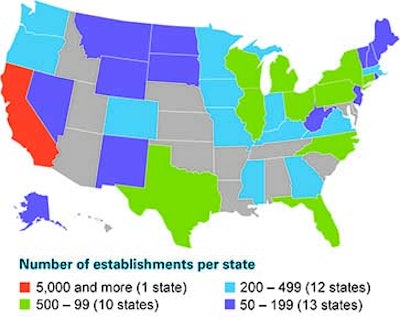 As retail goods evolve to meet market demands and SKUs increase, so do manufacturing headaches, according to PMMI's report on "2017 Trends in Food Processing Operations." More than half of survey participants say SKUs are increasing at a rate of 10 percent, with some food manufacturers reporting up to 50 percent growth. This is driving the demand for faster changeover.
So how will food companies keep up with multiple manufacturing hurdles? According to the survey respondents, food and beverage processors must:
Comply with stringent food safety regulations
Use highly selective sorting to reduce food waste
Rely on smaller batch processing machinery and more compact manufacturing
Install inspection equipment for detection and separation of foreign particles
Employ highly flexible equipment with easier changeover
Embrace automation equipment and combine a number of operations into one
Install machinery that reduces and conserves energy usage.
PMMI's research report also uncovered some interesting marketing intelligence statistics:
There are a large number of small bread producers; opportunities exist for startups using contracted services.
New drink makers are expected to enter the market with premium priced products.
High capital expense on candy-making machines and heavy FDA regulations make it a difficult market to enter, with the top four candy producers dominating.
The top four frozen food producers claimed nearly half of the industry revenue in 2016. The top two frozen pizza producers share more than two-thirds of the segment's revenue.
The global chilled and deli foods market is highly fragmented, with the top three players holding just 10.5 percent of the total market value.
To download a copy of the PMMI report on trends in food processing, please visit www.pmmi.org/business-intelligence.
To see the companies featured in the Global 250 Food and Beverage Manufacturers list and Global 50 Alcoholic Beverage Manufacturers list, please visit www.profoodworld.com/global-250 and www.profoodworld.com/global-50, respectively. You will be able to sort and search the statistics, which include U.S. sales for each global company, U.S. beverage sales by company and the major manufacturing locations for each company.