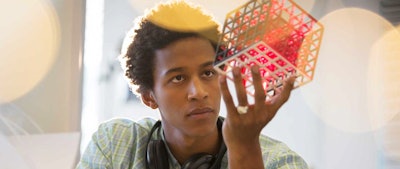 There's an old saying: "Choose a job you love and you will never have to work a day in your life." Perhaps that's why we have kids aspiring to be professional athletes, musicians, chefs, reality TV stars and—the No. 1 profession cited by 3- to 4-year-olds—superhero.
Luckily, as of 2015, "engineer" made it to No. 9 on the top 10 professions that kids want to be when they grow up, according to the Fatherly Imagination Report, based on 500 responses from kids between the ages of 1 and 10 years old.
But the need to get "engineer" and even "machine operator" and "automation expert" to the top of the list is important to the future of manufacturing, which is facing a serious shortage of workers. Over the next decade, nearly 3.5 million manufacturing jobs will likely need to be filled, according to a study by Deloitte and the Manufacturing Institute, which noted that the skills gap is expected to result in 2 million of those jobs going unfilled.
The industry is responding by trying to change the image of manufacturing with outreach efforts, such as the annual Manufacturing Day. Launched in 2012 by the National Association of Manufacturers (NAM), the goal of the day is to change the public perception of the factory floor as a dirty, monotonous, dead-end job, and demonstrate to the next-generation workforce that today's manufacturing jobs are highly skilled positions with growth opportunity.
There are indications that Manufacturing Day is working. According to Deloitte's Manufacturing Day 2015 survey, 81 percent of students who attended Manufacturing Day events emerged "more convinced that manufacturing provides careers that are interesting and rewarding." In 2016, that perception rose to 84 percent. Projections indicate that roughly 600,000 people attended Manufacturing Day events in 2016 and that 267,000 of them were students. That means that more than 224,000 students walked away from the 2016 event with a more positive perception of manufacturing, according to Deloitte.
That's a good start. But the companies need more. They require tools that support the new image of modern manufacturing as an innovative environment that leverages automation, 3D printing, simulation, the Internet of Things (IoT) and mobile apps. They also need programs that support science, technology, engineering and math (STEM) education—in a somewhat unique way. To that end, manufacturers, suppliers, academia, government, associations and the entertainment industry are developing and delivering programs and promotions that make manufacturing interesting to Millennials, as well as provide a rewarding career path for veterans and skilled tradespeople.
"Everyone is starting to understand the importance of STEM, but that won't convince someone to be an engineer," says Jay Flores, the global STEM ambassador at Rockwell Automation. "We are trying to find things kids are already passionate about and show them the STEM behind it." Many students are becoming technology users but aren't understanding the importance of being creators, he comments.
To change that, Rockwell has partnered with Discovery World, a science museum in Milwaukee. There, the kids can see scale replicas of landmarks around the city, such as Miller Park, where the Milwaukee Brewers play. The park has a fan-shaped convertible roof, which can open and close in less than 10 minutes. At the exhibit, students use a human-machine interface (HMI) and see the motors and controls behind the scenes to open and close the roof.
"They might go to the ball park in the summer and never see the connection to STEM," Flores says. "But we help bridge that gap and make the connection for them." To drive home the point even more, after "playing" with the Miller Park roof replica, students are then asked to look across the street to the Milwaukee Art Museum which has "wings" as part of the building architecture that open and close—and which are controlled by Rockwell technology.
Rockwell is a great example of how an automation supplier is making a difference in the minds of up-and-coming engineers. Associations have gotten in the game, too. PMMI, the Association for Packaging and Processing Technologies (and parent company of PMMI Media Group, publisher of Automation World), has developed a unique spin on a popular television program, hosting the "Amazing Packaging Race" at its PACK EXPO show.
This friendly competition brings together students from PMMI partner schools who form teams to visit exhibitor booths and complete specific packaging tasks, as well as share trivia-related tasks on social media platforms to earn extra points.
"Like the Amazing Race, it's a scavenger hunt where students learn about the industry and exhibitors have the opportunity to interact with students," says Stephan Girard, director of workforce development at PMMI. It is a hands-on approach to learning that builds teamwork skills and engages the participants. Last year, 25 teams and 30 exhibitors participated in the program.
"It generates a lot of buzz on the show floor and is a conversation starter," Girard says. "But ultimately, the companies that participate do so because they want to encourage the next generation to join the industry."
PMMI is actively supporting other workforce development efforts as well, such as offering a next-generation networking fair at PACK EXPO that connects employers in the processing and packaging industry with students about to enter the workforce. PMMI also offers mechatronics certification programs and online technical training to keep operators, technicians and maintenance staff up-to-date on basic skills.
The way in which schools and industry organizations interact with students and deliver educational programs is becoming a critical element to success, industry experts say, because we are at a unique moment in history.
"In addition to the challenges we are facing related to brain drain from Baby Boomers retiring, we have an educational system that is out of alignment with the labor market," says Jennifer McNelly, president of 180 Skills, a provider of high-quality, yet affordable online career and technical skills courses. Although that's starting to change around STEM careers, it is still not meeting the market demands for the future workforce in manufacturing, she says. That's because "the pace of change on the education side is not as fast as the pace of change in the industry.
Educate to automate
Prior to joining 180 Skills earlier this year, McNelly was president and executive director of the Manufacturing Institute, an affiliate of NAM dedicated to making U.S. manufacturers globally competitive—a process that begins with developing world-class talent. The Manufacturing Institute launched the "Dream It. Do It." network in 2005, an initiative offering local manufacturers, schools and community-based organizations the opportunity to promote manufacturing to students, parents and educators through teacher professional development and robotic camps, for example, providing hands-on learning and team building as students play with technology. In 2016, the network engaged 384,952 students, 68,971 parents and 19,489 educators.
McNelly is expanding on the institute's initiatives in her latest role at 180 Skills, which changes the classroom dynamic. The competency-based training is all online with more than 700 courses teaching technical and soft skills—like communication. "It is not about knowledge acquisition, but about how to design custom learning paths to specific jobs," she says.
To that end, the curriculum is designed to be fluid to create a learning pathway for students and employees. Learning paths enable organizations to drag and drop any combination of skills courses into programs to achieve learning goals. There's no limit to the number of learning paths a company can create, and enterprise pricing is as low as $7 per student per month. The setup also accommodates people requiring a certain baseline level of knowledge for an entry-level job.
"Every day, a lot of people are screened out of good jobs for whatever reason," McNelly says. But an employer can tell them to take an online course to meet the criteria and come back for an interview. "And then the onus is on the individual. If they complete [the course] then you have someone closer to what you need for an entry-level worker. It also demonstrates persistence and completion."
According to McNelly, 180 Skills has launched 13,000 careers in 12 weeks or less with a 90 percent employment rate.
Another interesting twist on education comes from Edge Factor, an entertainment company that produces original films about manufacturing heroes. The film "33," for example, focuses on Center Rock, the manufacturer of the high-tech drill used to construct an escape route for the 33 Chilean miners trapped during a mining accident in 2010. Feature film "Metal & Flesh" profiles Mike Schultz, an X Games champion who lost his leg in an accident and then designed a prosthetic leg capable of withstanding the immense force of extreme sports.
"The first years of Edge Factor were about pulling back the veil and showing a different view of the industry, but I knew early on that it wasn't enough," says Jeremy Bout, host and executive producer of Edge Factor. So Bout evolved his work into an educational platform, called eduFACTOR. Here, the primary audience is teachers, but also includes students, parents and business. "We listened to all four of those audiences to figure out what their individual frustrations were to bring something engaging and entertaining."
The eduFACTOR platform provides tools for educators to create live events, custom content and regional solutions. The latest addition to the programming comes in the form of a reality TV show called Reality Redesigned.
"Reality Redesigned was built to create a different solution to a different problem," Bout says. While eduFACTOR creates a pipeline to meet industry and community needs, with a focus on mechatronics, Reality Redesigned was created to answer a different question: "How do we get more students aware of the training available at local colleges that have jobs attached to them in the community?"
Reality Redesigned was launched with Randolph Community College in Asheboro, N.C., inviting 15,000 students from schools in the area to participate in a design challenge. Five hundred students, ages 12-18, accepted the challenge and formed teams. Seventeen teams made it into the competition but only three teams made it to compete in the final challenge—and TV show.
For the Reality Redesigned show, a new challenge was posed by race car driver Kurt Busch, who asked the three teams to redesign a new sign for his company's building. The 84-hour challenge gave the students access to computer-aided design (CAD), programming in Mastercam software, and the use of waterjet cutting technology, welding, lighting solutions and more.
In episode 1, Bout, the host of the show, makes it clear to the teams that there are three things to understand as they approach the challenge: scheduling, time tracking and materials—all terms that are used in the manufacturing industry. They must figure out what technologies and machines are available and who can help. They must build a spreadsheet and track every area they are working in to figure out how much time is spent. And because materials cost money, if something is to be machined out, there must be a line item around how much that costs.
During the show Bout tells the teams: "The technology that you are about to learn helps build stuff that goes into space. This is what people use to build airplanes. The use of this technology helps people live longer. And the skills that you learn will help you push back the edge of what's possible."
The show is the perfect mix of Hollywood meets manufacturing, and for Bout, it is clearly getting through to the kids as he often sees the "aha" moment in their faces. "I get to see it all of the time," he says. "I see a significant shift in understanding."
Keeping it real
The workforce of the future is not just about attracting new talent, but also keeping the existing workforce up to date on the ever-changing technology landscape. In manufacturing, that means preparing people to work in a digital environment.
In June, the North American Digital Capability Center (DCC) opened its doors as part of the UI Labs Innovation Center in Chicago. Founded by McKinsey & Co. in partnership with the Digital Manufacturing and Design Innovation Institute (DMDII), the learning center offers hands-on experience and workshops to help company leaders and their employees advance operations, design and productivity in this new way of working.
It is set up as a real shop floor producing real stuff—in this case a compressor for a refrigerator—but done in a risk-free environment that is an experiential environment to prepare workers with the skills required in digital manufacturing jobs.
"In a demo, you are just seeing cool technology," says Katy George, senior partner at McKinsey. "In the capability center, you are learning how to apply it and how to use that technology to drive performance improvement."
More than 50 technology partners are on site, bringing participants from a non-digital, lean "current state" to a higher-performing, digitally transformed "future state," using artificial intelligence, machine learning, digital work assistance for operators, human-robot collaboration, augmented reality, additive manufacturing, advanced analytics and more.
The immersive experience is set up for learning. "For example, on the shop floor of the DCC, we have Microsoft HoloLens and you can do predictive maintenance through augmented reality, immersing yourself into the job of a maintenance engineer," says Enno de Boer, principal at McKinsey. "And if you can't get all of the information to fulfill the maintenance, a Skype call to an expert will help you perform the task."
Interestingly, the center is also looking at how automation affects job design—what can be automated and what can't, which will be helpful to understand what it will take for an individual to be successful in the future manufacturing environment.
One thing is clear: Change will be constant and the future workforce must be prepared to continuously learn and adapt, McNelly says. "Learning is a lifelong journey, not a destination with an endpoint."
Perhaps the biggest obstacle the industry must overcome to fill the skills gap is not advancements in technology or public perception of the industry, but human nature. We, as adults, must change our behavior and invite our children to be inquisitive.
"We stop kids from asking the question 'why' from the time they are little, and that's the most important question they can ask," says Rockwell's Flores. "All kids are born engineers. From the moment they open their eyes, everything is some kind of experiment. If we allow them to ask questions, or to jump in the mud and see what happens, they'll be better off in the future in exploring the why and how to do things differently."
Companies in this article