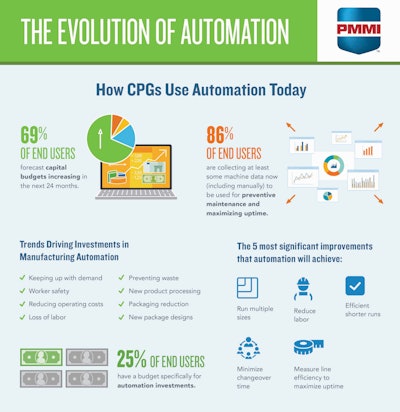 It's not a matter of if CPG companies will adopt automation, but a matter of when, according to a new report from PMMI, The Association for Packaging and Processing Technologies. The 2017 Evolution of Automation report finds that more companies are implementing automation technologies, but they are doing so gradually as they encounter financial, technological and labor challenges along the way that prevent them from fully embracing automation.
According to the report, most CPGs are automating in order to achieve greater operational efficiencies for their plants and remain competitive in the marketplace. The businesses that participated in the study said that the smart technology associated with automation, such as cobots and real-time data analysis, will help them address the lack of skilled labor in the industry, reduce operating costs and implement flexible manufacturing processes. As a result, they will be able to better meet growing global retail demand and consistently create quality products, including customized items, that consumers expect.
But some companies are further along in automating their operations than others. According to the report, only 1 in 5 companies have fully integrated production lines. "Look at it as a marathon," says Donna Ritson, president of DDR Communications and the author of the 2017 Evolution of Automation report. "The companies that are going to get to a fully industry 4.0 automation are your leaders in the industry. And everyone else is going to be spread out across the path. Everyone has crossed the starting line, and they understand that they're in the race and they need to keep going. … Most of them are in the process and on the path to automation."
Many CPGs recognize automation is here to stay, but they prefer gradually adopting automation technologies because of the various obstacles they face in implementing it into their operations. One of the hurdles that CPGs face is justifying the capital expenses to advance automation. However, 2 out of 3 companies in the study said they are now increasing their capital budgets, with 25 percent of those companies dedicating a portion of their budgets specifically for automation. And as costs decline for automation, many companies see the ROI in moving forward with automating operations, especially because manufacturing output is expected to increase 10 percent from 2016 to 2020 and 25 percent from 2020 to 2025.
Cost is also a factor when dealing with disparate and legacy systems, according to the report. CPGs need to decide whether to upgrade their older systems or purchase new equipment and software. Some legacy machines and software still have value, but upgrading them can be complex and daunting. New machines and software may be more expensive than upgrading existing systems, but they provide greater security and allow users to easily access data.
Another obstacle standing in the way of automation is the separation of the information technology (IT) and operation technology (OT) departments. One of the key elements of a smart manufacturing plant is the convergence of the IT and OT departments. When IT and OT unify their networks and systems, they provide a holistic view of the plant floor. That means reduced downtime, lower operational and energy costs, increased operator safety, shorter changeovers, and better predictive and preventive maintenance. About 58 percent of the respondents in the study said that their IT and OT departments are starting to collaborate.
"Certainly, it's an evolution. Like everything else, it needs improvement," Ritson says. "Some companies were not quite sure what their [IT and OT] departments were doing and how that was being handled, but overall there's movement in that direction."
CPGs are also having difficulty helping their employees develop the technical skills needed to implement and operate automated machinery and software. So they are turning to their OEMs and technology suppliers to provide education, support and consulting services that will help CPGs train their employees, understand what equipment and software will best optimize their operations and comply with regulations, analyze their data, and determine accurate total cost of ownership.
"About half of the participants are calculating total cost of ownership. But in the same breath, we would hear some companies say, 'We don't think we calculate it very efficiently. We have our own calculation of how we do it,'" Ritson says. "So, certainly, helping companies understand how to get at the total cost of ownership really can be a beneficial differentiator in how they're choosing their machinery in the future."
CPGs are also looking to OEMs and technology suppliers to provide automation machinery and software that are easy to use, are customizable and can communicate along the production lines, according to the report. For example, CPGs in the study wanted intuitive programming software; intuitive HMIs with clear and simple instructions, graphics and dashboard views; and more mobile connectivity so they could see the HMI dashboards on their smartphones and tablets. They also requested smarter sensors like magnetic sensors to achieve greater reliability rather than optical sensors. In addition, they would like to see more flexibility on the production lines with improvements such as self-tuning or self-calibration to accommodate various product applications, fully automated safety communications, and rapid changeover and cleanability. And they said they wanted greater access and analysis of real-time machine performance data to calculate OEE.
When they increase automation, CPGs in the study said they expect to achieve significant operational improvements, including running multiple sizes of products; reducing labor costs by automating repetitive tasks; improving line efficiency to maximize uptime; executing shorter runs efficiently, especially when customizing products; and minimizing changeover time.
As automation technology continues to advance, CPGs plan to increase their use of automation over the next five to 10 years to ensure flexible and efficient operations that will help them meet increasing consumer demands, according to the report. "The United Nations predicts that by 2050, we need to increase our food production by 70 percent," Ritson says. "Automation is going to help us get there."
For more information in the report, please download the 2017 Evolution of Automation Report.
Companies in this article