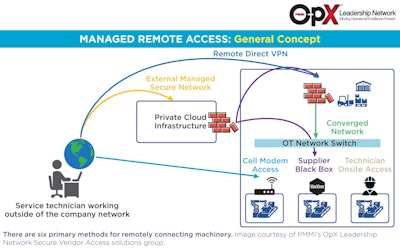 Threats to plant information networks and interconnected machinery can have a negative impact on productivity for food and beverage manufacturers. PMMI's OpX Leadership Network has created a Secure Vendor Access solutions group that helps both processors and equipment manufacturers understand the risks and rewards of remotely connected processing and packaging machinery. The group's goal is to enable safe remote diagnostics and assistance by the equipment suppliers in CPG manufacturing plants.
The OpX solutions group has created a Best Value Options Analysis to enable transparent, nontechnical discussion of the pros and cons of each of the primary methods for connecting remotely. The Best Value Options Analysis includes the skills required to implement and maintain secure access, the cost to acquire and operate it, and an overall value proposition. The analysis covers the following primary methods for connecting remotely:
Direct VNP.
Converged network.
Cell modem.
Black box.
Technician.
External managed secure network.
"In past experiences, IT and engineering were two isolated departments that didn't work well with each other," says OpX solution group participant Robert Dargie, an electrical engineer with Amway. "You've got to develop a partnership between the two departments to develop some of these standards."
OpX Leadership Network Managing Director Steve Schlegel concurs. "There is an absolute need for IT, engineering and OT working together seamlessly to fully take advantage of this transformation to a digital world," he says.
Currently, the main drivers of allowing remote connectivity, according to PMMI research, are:
Faster downtime recovery.
Reduced cost of travel.
Diminishing engineering staff.
Lack of labor.
In the next decade, it is predicted that more than half of machines will utilize remote connectivity for data collection, troubleshooting and operational visibility.
To view a webinar on this topic, to go www.profoodworld.com/webinar-registration/secure-vendor-access.
To learn more about PMMI's OpX Leadership Network, visit www.opxleadershipnetwork.org.
To learn about how food and beverage companies are embracing automation to gain a competitive advantage, please read "Using automation to boost efficiency."
To learn about how smaller companies can benefit from automation, please read "4 reasons why small- to medium-size companies must embrace automation to survive."
To learn about why food companies are investing more in automation, please read "What's driving automation spending?"
Companies in this article