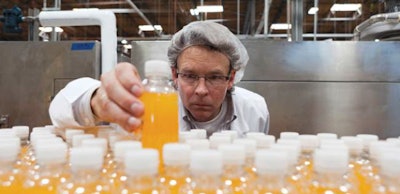 According to Beverage Trends in Packaging and Processing Operations, a new report by PMMI Business Intelligence, many respondents report severe shortages of operators, mechanics, and temporary workers, at least in some geographic areas.
Respondents cited issues such as filling an open position, only to have employees leave after being fully trained; or, having great difficulty finding temporary employees.
"Our plants are in fully employed environments. Getting temp labor is impossible right now. If you need 12 people, you are lucky to get four, and of those four, you will be lucky if they stay the full day," said one VP of Production from a dairy company.
Equipment providers also feel the repercussions of skill shortages at beverage companies, because their service people are frequently asked to stay onsite from two to five weeks longer than normal after machine installations.
Often, the most difficult places for employees to receive good training are the most production-intensive environments such as large carbonated soft drink (CSD) and water companies. Due to very high production volumes accompanied by low margins, these operations tend to run 24/7 and often don't have the time or the line availability to shut a line down for training.
Another reported training issue involves timing, which typically occurs just after new equipment installations – newly installed machines frequently have issues that require fine-tuning, hampering the effectiveness of training.
Some respondents believe their labor challenges are exacerbated by the 12-hour shifts commonly used in 24/7 production environments. Worn-out production employees can have a significant impact on a plant's overall productivity and contribute to a high turnover rate.
For more details about this and other beverage trends and growth, download the FREE Executive Summary, or the full report here.
Source: PMMI Business Intelligence, "Beverage Trends in Packaging and Processing Operations 2018." Note: PMMI works with dozens of schools to coordinate curriculum that will be beneficial to students, CPGs and member companies to help alleviate the shortage of skilled workers in manufacturing.