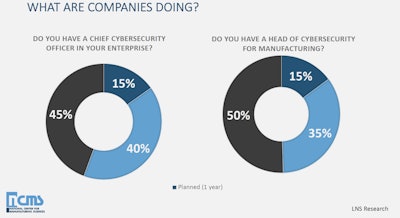 Most companies remain woefully unprepared to respond to a cyber attack like ransomware or malware, let alone be proactive and build a strong defense, Taylor said. Taylor addressed the diverse manufacturing crowd at Automation World's Automation Conference in Chicago, May 22-23 in Chicago.
Forty percent of manufacturers recently polled reported having a chief cybersecurity officer, and even fewer had a special chief for manufacturing cybersecurity, reported Taylor. The two are different, and specifically protecting your manufacturing assets from attacks is vital.
There is still a good portion of responding companies that are doing little or nothing to monitor plant systems and networks for attacks, conduct regular risk assessments, or carry out penetration testing on firewalls, according to Taylor. There is a lack of standards for best practices leaving many companies paralyzed. "Do a risk assessment and identify vulnerabilities," said Taylor, "This will help you direct initial efforts and secure necessary budgets."
See the entire presentation here: Collaboration That Works: Cybersecurity for Manufacturing. This presentation comes from The Automation Conference 2018, hosted by PMMI Media Group's brand, Automation World.
Learn more about The National Center For Manufacturing Sciences.