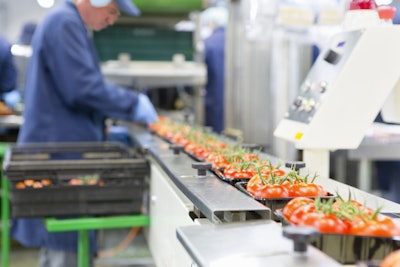 The value of the fruit and vegetable machinery market is estimated to have been $0.5 billion in 2016 in the United States; IHS Markit forecasts it to grow with 2.5% CAGR from 2016 to 2021.
Due to consumer perceptions about nutrition and increased attention to healthy eating, more Americans have favored fresh and organic foods, dampening industry demand for tinned or canned produce. Conversely, with rising fruit and vegetable prices more cost-conscious consumers have looked to lower-cost canned produce, while also raising costs and dampening profit for industry operators.
With increased dining away from home, the demand for processed fruits and vegetables is expected to grow with the increasing demand for frozen and fresh cut products in the country. The processing of fruits and vegetables help increase fresh cut products' shelf-life and maintain quality of the end product.
The implementation of new technologies has improved net profit margins by making operators more efficient. The use of semi-automatic and automatic machineries is increasing in every stage of processing, including pre-processing, filling, washing, and dewatering. There are different types of methods being used to process fresh cut, frozen, and canned products.
The trend towards consolidation of companies can also be seen at all levels of the food supply chain. Major fruit and vegetables processing machinery manufacturers have consolidated to expend their business operations, thus creating tough competition for small manufacturers in the country. Conversely, small manufacturers can be seen in filling a niche market that requires more flexible product types to fulfill small quantities for regional grocery stores and restaurants.
Source: PMMI Business Intelligence, "2018 Food and Beverage Processing Machinery Report."
Download your FREE executive summary or the full report here.
To see other food and beverage market deep dives click here.