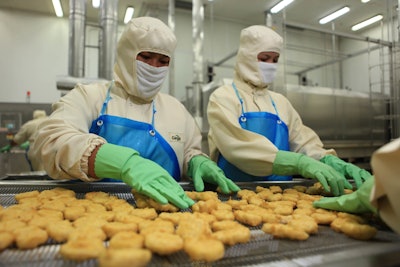 Ever-changing global consumer demands are adding enterprise complexity for food and beverage manufacturers as companies grapple with mergers and acquisitions, legacy equipment, modernization, and continuous improvement upgrades. Global consumer trends, such as lot size one or clean label demands, know no country borders, and advanced food manufacturers need to optimize their processes rapidly.
A recent food manufacturing tour of Thailand for business-to-business journalists, sponsored by the country's Board of Investment, revealed many food producers are in prime positions to embrace these challenges. Food manufacturing production grew by 4.6 percent in 2017, and capacity utilization in the food industry rose from 51.6 percent in 2016 to 53.4 percent in 2017, according to the Food National Institute of Thailand.
While many growth indicators point upward, capacity utilization in Thailand has room to grow as the country continues its manufacturing shift to more digital processes. Thailand's Board of Investment recently launched a new economic initiative called Thailand 4.0, which promotes innovation-driven processes in the food and beverage industry.
"Thailand needs to move away from mass production in the food industry, and our job is to help inform manufacturers about this challenge," said Somkid Jatusripitak, deputy prime minister of the Kingdom of Thailand at the opening of the 2018 THAIFEX Food Show in June.
With assistance in the form of tax incentives for new machinery and R&D resources, many sizeable Thai food companies are moving forward with modernization plans that include updates to enterprise resource planning (ERP) software and manufacturing execution systems (MES).
"Cargill is modernizing operations and reinvesting in Thailand to expand our current portfolio," says Hans Kaba, president of Cargill Protein Southeast Asia. "These upgrades include investment in new facilities, technology, equipment upgrades and talent development, as well as a focus on improving food safety and quality standards across the entire value chain."
Cargill's CEO expanded the company's business model in 2015 and retooled its product line across the enterprise. With this revamp underway, Cargill Protein Southeast Asia bolstered operations in Thailand over the last few years, and now the poultry producer processes more than 500,000 chickens per day at its Thailand food facilities.
In 2016, Cargill expanded its poultry processing facility in Nakhon Ratchasima to the tune of $48.6 million. The Southeast Asia Cargill division exports already-cooked chicken products to McDonald's and convenience store channels in nearby Asian countries. In total, Cargill Thailand processing facilities export to 28 countries around the world.
With plans to capture more market share, Cargill will deploy its SAP platform to its Thailand food facilities next year. "The move is to a modernized digital core using SAP S/4HANA while leveraging a common data source for the larger Global Poultry Group," says Kaba. "We are implementing SAP across to our large processing facilities located in Saraburi and Korat."
The S/4HANA platform optimizes processes and provides better access to inventory via mobile applications, while also creating critical raw material buffers and reorder points for Cargill Protein. This massive enterprise project will also eventually include a connection from the ERP module to SAP's MES module for better operational efficiencies. The MES platform will allow Cargill to move away from Excel sheets and toward electronic production orders and automated quality inspection data via an ERP/MES integrated system.
Cargill didn't comment on any industrial networking solutions to be used for future ERP/MES integration plans. However, SAP offers a set of manufacturing applications to provide customer access to production cells on the plant floor. SAP Plant Connectivity includes OPC UA technology application to link production lines with SAP devices.
"This ERP platform will offer better service to our customers in navigating our food system from farm to table, which ultimately offer the best product to the end consumer," says Kaba.
Product innovation
Thai Union is another growing food manufacturer. (See related article, "Thailand food producer bows to consumer preferences") The seafood producer supports Thailand's No. 1 ranking of exported canned tuna with its 15 processing facilities across Europe, Asia and the Americas.
The seafood manufacturer recently announced a company innovation initiative in 2015 that strives to create new seafood products to meet changing customer preferences, but also focuses on better traceability to the original source.
To implement such an extensive traceability program, Thai Union moved away from the original SAP platform to a cloud-based version of SAP S/4HANA to track raw material sources throughout the entire enterprise, from vessels to processing plants. This upgrade cleared the way for the company to implement its SeaChange sustainability strategy that promotes consumer transparency to the original-sourced fish and overall better enterprise efficiencies.
"We all have an interest in ensuring seas are fished sustainably now and in the future. This can only be done when seafood is sourced from vessels which observe all regulations and operate legally and responsibly," says Dr. Darian McBain, global director of sustainable development at Thai Union.
Companies in this article