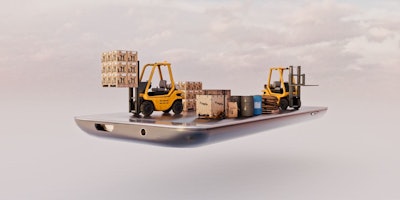 Automation World's September cover story reports on the need for manufacturers to keep up with the consumer expectation that they can click on a website to order a product for next day delivery, all while maintain visibility into the entire process. In the feature story, "The Factory Faces the Amazon Effect," we dig into how CPG, food and beverage and pharmaceutical companies are applying new technology to build flexible processing and packaging machines that can produce a "batch of one," that is, the ability to economically make one product.
While the story looks at machine technology that will enable quick mass customization in the production process, there is still a need to address how the supply chain must change to deliver these new on-demand items from the plant floor to the customer.
Enter Cloudleaf, a four-year old provider of digital supply chain technology that addresses this very specific market opportunity that sits between e-commerce and the edge. "We are playing at the intersection of two mega trends," says Cloudleaf CEO Mahesh Veerina. "One is the digitization of commerce and the other is collecting data at the edge."
The company's offering is made up of three parts: It's patented Sensor Fabric, a control center and cloud applications.The Sensor Fabric is an intelligent edge network made up of IoT sensors and gateways that collect unique location, condition and flow data to continuously deliver information to the cloud. The control center enables on-the-fly deployment, calibration and management of the Sensor Fabric, and the data is streamed to the cloud where a business rules engine transforms data into actions.
The Cloudleaf set up acts as a mini cellular network that works inside or outside. "We specialize in moving objects, whether it's a pallet or a forklift, any process that is moving, we track the data points, [such as] the location, the temperature, vibration, humidity, what path it takes and any meta data associated with it," Veerina says. "We get all of this in a timely fashion and push it to the cloud where it is all processed."
This enables enterprises to monitor, measure and manage their supply chains in real-time. In the latest iteration of the Cloudleaf platform, announced in July, there is comparative multi-location movement history to maximize yield and improve asset utilization; lifecycle tracking to manage dwell times, cycle times, asset condition changes and other variables; value loss analytics to measure inefficiencies in asset handling, storage and usage; and path modeling to provide compliance tracking, monitoring and reporting. In addition, a library of APIs, SDKs and pre-built connectors enable integration with existing ERP, MPR and MES systems.
Key to this is the ability to scale the infrastructure, which is already happening, Veerina says noting that the company started with about 40,000 sensors active in the field and by the end of the year there will be about 100,000 sensors out there. The current Cloudleaf digital supply chain processes more than 100 million location, condition and path-flow data points per day, generating over 70 million predictive insights per week.
For example, Cloudleaf is working with a food and beverage supplier to track raw ingredients starting at the farm all the way through manufacturing. Using Cloudleaf, shipments are tracked throughout the cold chain, monitoring continuous temperature, location and condition of perishable goods. Cloudleaf is also working with a biotech company that collects and transports time-sensitive blood plasma samples from 82 donor centers in order to track dwell time in each zone so that plasma does not sit for too long before reaching a temperature threshold.They also want to capture complete movement history for compliance with FDA regulations.
Indeed, it is a big infrastructure undertaking to deploy the sensor fabric, but Veerina likens it to building a grid at the edge in order to capture some critical information that can get lost along the way in the supply chain. And, it is another critical step that is required if the industry wants to be able to respond to the Amazon Effect in an on-demand manufacturing world.
Companies in this article