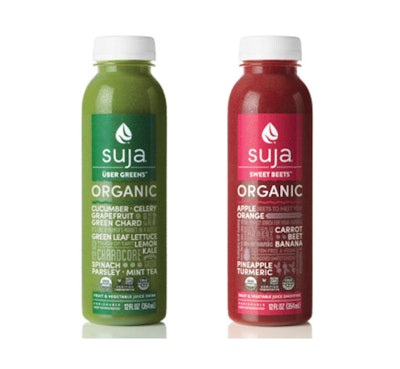 As consumers increasingly seek clean labels and fresh flavors, more manufacturers are turning to high pressure processing (HPP). Unlike traditional thermal and chemical preservation technologies, HPP retains much of the flavor, texture, color and nutrients of food and beverages while inactivating micro-organisms and extending shelf life with little to no chemical preservatives. But to take advantage of HPP, manufacturers must invest in packaging that can survive the unique rigors, limitations and demands of the HPP process.
Packaging is crucial in HPP because the food or beverage product is sealed in its final packaging when it undergoes the process. The packaged product is submerged in water and subjected to as much as 87,000 psi of cold water pressure for a few minutes to kill pathogens and spoilage micro-organisms without destroying thermolabile substances or the package. As a result, packaging must be able to hold up to the wet, high-pressure environment of HPP.
"Packaging allows food producers to take advantage of the technology," says Mark Duffy, CEO of Villa Rica, Georgia-based Universal Pure, a third-party provider of HPP services.
Because HPP products are immersed in water, packaging must be water resistant. In addition, the packaged product must be hermetically sealed with a lidding film, which some experts recommend have a minimum seal burst strength of 17 Hg, to prevent water from leaking into the product. However, the seal should strike a balance between being strong and tight yet can be easily peelable, according to Prem Singh, president and chief technology officer for Teinnovations, a Warrenville, Illinois-based packaging company specializing in HPP packaging and processing.
"More and more consumers don't want lock seals. They don't want to take a knife to cut it, or the seal is so strong that when they peel it, it tears apart, contaminates the food, and the food splashes during the opening of the package," Singh says.
Feeling the pressure
The intense, isostatic pressure of HPP also requires packaging that is flexible enough to expand about 15 percent and can revert back to its original form without loss of seal, barrier properties or compositional integrity. Flexibility also transmits the pressure to the product, thereby killing the pathogens and spoilage micro-organisms in it. Bottles, jars, cups, pouches and trays made of durable materials such as HDPE, PP, PET, PE or CPET are often used in HPP. Rigid materials like glass and metal are not suitable.
To further stand up to the pressure of HPP, containers should have minimal headspace, with the food or beverage product filled up to at least 90 percent of the container. If too much air is in the package, the pressure can cause the container to cave in on itself.
As more consumers demand fresh, natural products with less preservatives and more manufacturers recognize the benefits of the technology, HPP is expected to grow to more than $50 billion by 2027 — and packaging innovations will follow suit, according to Duffy.
"There's significant tailwinds behind the technology," he says. "And packaging plays an absolutely critical role in it. It protects food and beverages during the journey from production to consumption."
Companies in this article