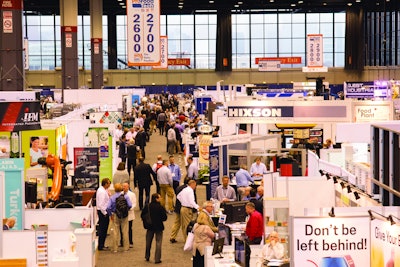 NorthAmerica's only all-encompassing food and beverage processing trade show is back in the Windy City. An estimated 7,000 attendees and 400 exhibitors from every sector of the food and beverage industry will flock to Chicago's McCormick Place March 26-28 for ProFood Tech, the biennial event that will give food and beverage processing professionals an exclusive, up-close look into the latest industry innovations, technologies and trends.
"The success of the inaugural ProFood Tech 2017 confirmed our belief that the industry craved an all-inclusive, one-stop shop for their food and beverage processing needs," says Jim Pittas, president and CEO of PMMI, The Association for Packaging and Processing Technologies, one of the producers of the event. "The comprehensive nature of ProFood Tech allows senior management and even C-suite level processing professionals to find real value in one event, under one roof." PMMI is producing the event in partnership with the International Dairy Foods Association (IDFA) and Koelnmesse, an international leader in organizing food and beverage trade shows, such as Anuga.
On the agenda
Engineers, plant managers, package designers, quality control personnel, supply chain managers, and other food and beverage processing professionals can look forward to seeing in-booth demonstrations from top suppliers showcasing their equipment and services. For example, VAC-U-MAX will be on hand to demonstrate its vacuum conveying and bulk material handling systems. Inspection equipment suppliers like Anritsu Infivis will not only have their machines on display, but will also help attendees figure out the best equipment for contaminant and quality inspection. And Stellar and other design and engineering firms will share their advice on the best ways to tackle renovation or construction of plants.
After casing the show floor, attendees should check out the ProFood Tech Knowledge Hub, free educational sessions produced by IDFA. The sessions will be available at three separate venues or "zones" on the show floor. The IMPACT Zone will cover topics such as food recalls, cybersecurity and artificial intelligence through case studies and interactive discussions, where participants will share their experiences and successes. The DISRUPTION Zone will teach attendees how to implement disruptive technologies to meet consumer demands in areas such as food waste and e-commerce. The INNOVATION Zone will feature breakthrough technologies, ideas and formulations from industry trailblazers — designed to identify solutions to the most pressing challenges manufacturers face.
In addition to the educational sessions, there are also ample opportunities to network. For example, the Emerging Leaders Network, which cultivates the next generation of industry leaders, and the Packaging & Processing Women's Leadership Network, which seeks to advance women in the industry, will both host networking events.
Attendees will also get the chance to rub elbows with the best of the best in food and beverage manufacturing. At ProFood Tech, ProFood World will celebrate the winners of its annual Manufacturing Innovation Awards and Sustainability Excellence in Manufacturing Awards. The Manufacturing Innovation Awards presentation will recognize outstanding food and beverage processing and packaging innovation projects with speakers from Royal Cup Coffee and Tea, Just Born and HP Hood. The Sustainability Excellence in Manufacturing Awards presentation will honor manufacturing plants for driving improved performance through sustainability and going beyond environmental compliance, and will feature speakers from Smithfield, Land O'Lakes, Campbell Soup, McCormick and Keystone Foods. Both of these special sessions will be held in the ProFood Tech Knowledge Hub.
Fringe benefits
ProFood Tech will also serve as the venue for the 2019 Cold Pressure Council Annual Conference, which will take place March 26-27 at McCormick Place. The conference will cover best practices, research and trends for high pressure processing. An additional registration fee of $495 is required to attend. Attendees can register for this conference as part of the ProFood Tech registration process.
In addition, IDFA will host its Dairy Pavilion at ProFood Tech as a replacement for the association's International Dairy Show. At the 50,000-sq-ft pavilion, dairy processors will see cutting-edge equipment and products from 100 top dairy suppliers and learn about the latest trends, crossover technologies and innovations in dairy operations.
With so much happening in just three days, it can seem overwhelming to plan what to see and do at the show. Attendees should download ProFood Tech's free mobile app, which will be available for download Feb. 15 in the App Store and Google Play, or use the "My Show Planner" online tool available on the ProFood Tech website at www.profoodtech.com. Both applications allow users to search for exhibitors, access general information and real-time updates, and create personalized schedules.
Registration for ProFood Tech is $30 until March 1. After March 1, the registration fee increases to $100. To register or learn more about ProFood Tech, please visit www.profoodtech.com.