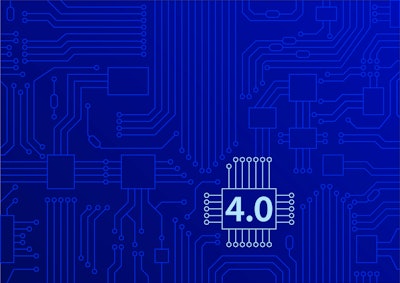 The packaging industry is responding to increasing brand owner demands for shorter product life cycles and cost-driving variation — leading to shorter runs, more line changes and more downtime on traditional converting lines. According to a new report from Smithers Pira, The Impact of Industry 4.0 on Packaging to 2023, a new generation of robotic systems and, in particular, improvements in automation and data flow mean packaging production can integrate and connect key processes — design, production, distribution, maintenance — into a single holistic approach, but challenges lie ahead, such as those below.
Cooperating with robots
Today, human-robot interaction is complicated because of the risk of injuries to plant workers. This will change with the evolution of superior artificial intelligence, allowing for collaboration between workers and a new generation of cooperative robots, or cobots. It will not only be safe for workers and robots to work together, but their collaboration means they will work closely together to ensure flexibility and productivity.
Systemwide machine learning
Machine learning algorithms are required with computational methods to improve themselves or the equipment they operate — in effect, learning information directly from data without relying on a pre-set and fixed equation or program without human interaction. The packaging industry will be able to use machine learning to analyze information from thousands of remote sensors to reduce product defects, shorten unplanned downtimes, improve transition times and increase production speed.
A common machine language
Industry 4.0 cannot operate without standardized interfaces between machines. Packaging equipment producers are a step ahead of the rest of the industry in this with the Packaging Machine Language (PackML). First developed over a decade ago, this digital communication standard allows a common interface experience and operational consistency across a packaging line.
A changing labor force
With a higher degree of automation in a smart factory, fewer workers will be needed. Lower skilled workers, like drivers and cleaners, will face redundancy. In contrast, there will be a premium on employing more skilled workers, especially software engineers and programmers.
Improved cybersecurity
As more and more systems are connected to smart devices, enterprise systems and the Internet, packaging operations will be increasingly exposed to cyberattacks. A determined hacker can easily break into a network and download control logic to an industrial controller or change its configuration. Thus, there is a growing onus to adopt integrated cybersecurity solutions and implement monitoring software to protect vital equipment.
To read the Smithers Pira study The Impact of Industry 4.0 on Packaging to 2023, click here.
Companies in this article