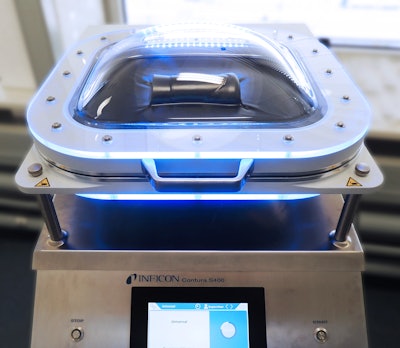 To help food manufacturers deliver fresh and safe products to consumers, INFICON developed the Contura S400 leak detector, which features a nondestructive leak detection technology that not only detects leaks without damaging the packaging, but also calculates precise leak rates that can help manufacturers extend shelf life of their products and determine the most cost-effective packaging solutions.
Designed to find leaks in modified atmosphere packaging and flexible packaging, the Contura S400 uses a proprietary differential pressure method. Manufacturers place their packaged products in the Contura S400 test chamber, where two elastic membranes create a vacuum and conform to the contours of the package. Air flows through any package leaks and into the chamber, causing an increase in pressure. A patented high-precision vacuum gauge measures this pressure change and calculates the package's leak rate in just seconds. To prevent the package from expanding or exploding due to the pressure differential, the membranes collapse around the packaging.
The Contura S400 is less complex, more quantifiable and a cost-effective alternative to conventional leak detection methods, such as water baths and gas-based testing, according to Bill Burnard, vacuum control sales and business development manager for North America for INFICON. In addition to providing precise leak rates, the Contura S400 can detect small and large leaks, avoiding the need for two separate machines, and eliminates the damage to packaging that can occur with water baths and gas-based testing.
When using water baths, the bubble rates of different leak rates under ideal conditions can almost never be achieved in reality. In addition, food manufacturers can't sell the products they test in water baths and are forced to discard them. Other pitfalls include the human factor. Whether bubbles are detected at all is dependent on the operator and subject to his or her subjective assessment.
Gas-based testing also has limitations. Because leak detection is carried out in a rigid chamber, the flexible packaging could be damaged because of the large pressure difference that is required. On the other hand, if the difference is too low, fine leaks will not be detected. There is also risk of missing large gross leaks when the tracer gas escapes completely from the packaging while the test chamber is being evacuated.
Unlike water baths and gas-based testing, the Contura S400 also delivers precise leak rates that can help manufacturers create cost-effective packaging that doesn't compromise the quality of the food, according to Burnard. For example, based on the leak rate that is acceptable for a specific food, a manufacturer could use the leak rate information from the Contura S400 to determine that it can purchase a less expensive film and use its existing sealing technique because together they yield the same or longer shelf life of its current, more expensive packaging configuration.
"Everything leaks," Burnard says. "Now it's just a matter of what is our expected or tolerable leak rate and what is going to get us past our shelf life expectations. The data that is being produced [from the Contura S400] allows manufacturers to really make precise measurements [for their packaging]."
"For example, for a potato chip manufacturer, it will be able to determine by the leak rate what the shelf life of its product is going to be," he explains. "A certain amount of leakage is tolerable. But beyond that, then their shelf life is going to degrade and the quality of their product will be less than the consumer anticipated it to be."
The Contura S400 gives manufacturers the data they need to produce their products efficiently and cost-effectively. "The Contura actually creates a uniform testing process that then gives a an actual and traceable leak value," he says. "The generation of uniform testing data is just such a stunning leap forward in testing procedures."
"Everybody is going to Six Sigma manufacturing techniques, or you've got quality assurance people that are looking for ways to improve the validity of what the plant is doing," Burnard adds. "This is an exponential leap forward in the quality of the data with regards to the testing of every production line."
Companies in this article