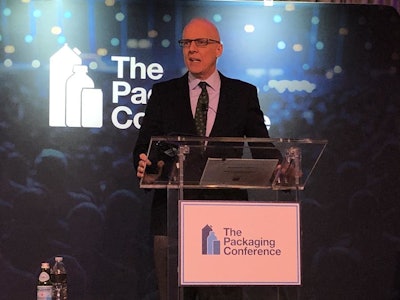 Each year, beverage data and consulting company Beverage Marketing Corp. assembles a report on the state of the beverage market, and each year, Gary Hemphill, Managing Director of Research at the company, graciously shares a number of those statistics with attendees at The Packaging Conference. At the recent 2019 event held in Las Vegas, Hemphill summarized 2018 as being "a good year for beverages." He says, "Bottled water continues to be a growth juggernaut, niche categories such as tea and sports drinks continue to outpace the marketplace, and spirits and wine are outpacing beer, even though there is still growth in the craft beer market."
Hemphill shared a wealth of observations during his presentation, Trends in the U.S. Beverage Market and its Packaging, including the following:
The U.S. beverage market grew volume for the fifth consecutive year—1.2 percent in 2018—and experienced slightly accelerated growth.
Refreshment beverages, including bottled water, carbonated soft drinks (CSDs), energy drinks, fruit drinks, RTD coffee and tea, sports drinks, and value-added water, have outperformed traditional beverages and alcohol in recent years. While refreshment beverages saw 2.4 percent growth, alcoholic beverages—beer, spirits, and wine—declined by 0.06 percent, and traditional beverages, including hot coffee and tea and milk, declined by 0.5 percent.
Bottled water has seen a four-billion-gal increase over the last decade, with bottled water consumption increasing more than the entire liquid refreshment beverage universe at the expense of CSDs and fruit drinks.
The single-serve water segment continues to drive overall category growth and accounts for over two-thirds of total volume. PET single serve represents 69.7 percent of the category, 1- to 2.5-gal sizes are 8.4 percent, HOD (home and office delivery) are 10.2 percent, vended are 7.1 percent, domestic sparkling is 2.1 percent, and imports are 1.9 percent.
The fastest growing area of the bottled water category is sparkling water, with 30 percent growth. "Canned water seems to be the package here," says Hemphill.
People want healthier refreshment. The caloric intake from refreshment beverages has been declining steadily in the last decade, from 263 cal/day in 2000, to 195.5 cal/day in 2018.
Products in emerging categories, whose combined revenue is 3 percent of the total refreshment beverage universe today, may become the successful brands of the future. These include kombucha, HPP/cleanses, RTD protein drinks, energy shots, probiotics, liquid water enhancers, cold brew coffee, essence water, healthy energy drinks, functional beverages, premium mixers, plant water and premium kids' beverages.
CSDs experienced improved performance in 2018 but declined slightly for the 14th consecutive year. "It's not a category that's dead," Hemphill says. "The revenue picture for CSDs is somewhat brighter as revenues have increased modestly over the last five years due primarily to higher prices and a changing packaging mix."
Cans, plastic, and glass comprise more than 90 percent of the packaging universe, with plastic at 46 percent, cans at 34.4 percent, glass at 14.3 percent, paper at 4.8 percent, and all other at 0.5 percent. Says Hemphill, "Packaging innovation has become an integral part of the marketing mix for beverage companies. With the beverage shelf more crowded than ever, a unique package can be a key differentiator, but can also provide functional benefits." Examples include shelf-chilling cans, proprietary new designs and proprietary package shapes.
Large CPGs in the beverage space have begun acquiring smaller beverage companies in order to diversify their portfolio. These include The Coca-Cola Company's purchase of Costa Limited, a U.K. based coffee company, and Keurig's purchase of Dr Pepper.
As for trends to watch for in 2019. Hemphill noted that they include:
The emergence of Gen Z
The blurring of beverage categories
The rise of craft beverages, a premium segment within virtually every category
New technology-enhanced beverage delivery systems
The Amazon-led retail revolution
The digitized corporation
The heightened importance of social responsibility and sustainability