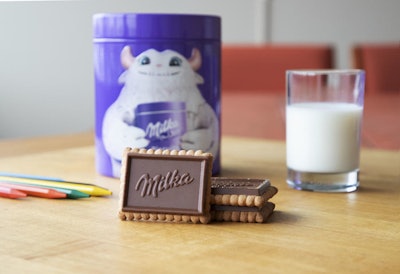 When TerraCycle approached global snack maker Mondelēz International in mid-2018 to gauge its interest in joining Loop, the answer was a resounding "yes." Says Charlotte Verhaeghe, General Manager Mikado Europe & Sustainability Lead Biscuit Europe for Mondelēz, "We feel that waste for all food companies and moreover for the whole FMCG [fast-moving consumer goods] industry is a real challenge, and Loop is definitely a disruptive approach that we wanted to join."
Mondelēz has already made "quite bold engagements and commitments" around sustainability, Verhaeghe emphasizes. These include cutting waste by 65 million kilos by 2020 and making all of its packaging recyclable by 2025. In addition, Mondelēz CEO Dirk Van de Put unveiled a new strategy in fall 2018 called "snacking made right."
"Our mission now at Mondelēz is to lead the future of snacking around the world by offering the right snacks, at the right moments, made the right way," says Verhaeghe. "Definitely the Loop initiative is a step toward this new mission. In particular, to do snacks the right way by eliminating waste."
Mondelēz's first step for engaging in Loop involved identifying the most complementary snack category. Having a long commitment to wellbeing through its sourcing strategy, the company's Milka chocolate and biscuit brand was deemed the best fit. An iconic brand in Europe, particularly in France, Milka only sources its milk from small-scale farms in the Alps. It also created the Cocoa Life Program through which it invests on the ground to transform the lives and livelihoods of those farmers and communities supplying its cocoa.
In mid-September, Mondelēz assembled a small, agile team to develop packaging for three complementary Milka products—Milka Cake & Choc soft cake, Milka Choco Biscuit cookies, and Milka Tender Break bars—in line with the brief provided by TerraCycle. "The brief was quite comprehensive, exciting and ambitious," says Verhaeghe. "We had to develop entirely new packaging from scratch."
She adds that the dexterity required for the project also aligned with Mondelez's new strategy to seize opportunities and pilot new projects by moving quickly, sometimes skipping over traditional processes.
The end result is a stainless-steel container from Promidea in four designs: three with well-known Milka characters Yeti, Grandpa, and Bear, and one with the Milka logo. Consumers can choose the container design they want when ordering the product.
Explains Verhaeghe, the design for the reusable package required new thinking, as the packaging "had to resist more or less everything." Ceramic printing was selected to decorate the container because it's durable enough to stand up to repeated use by the consumer, as well as withstand the cleaning process. In contrast, the ink-jet printing on the bottom of the container displaying the Best Before date had to be washable.
While challenging, the project presented an unprecedented opportunity for Mondelēz to produce a counter-worthy container without the typical cost restraints. "Usually for retail, we are compromising all the time, and finding the best compromise between the quality and the costs and the necessity. So this triangle is hard to match," Verhaeghe explains. "Here, the triangle is very different, and in reality, the cookie tin we are offering consumers is extremely high-quality."
Mondelēz ensures the safety of the product by wrapping the products individually—at least for the pilot, Verhaeghe says. Prototypes are in the works for a package that will eliminate the need for an overwrap.
The cost of the product inside the container will remain the same as at retail. For the package itself, consumers will pay a deposit, per the Loop model. A discussion inside Mondelēz, facilitated by research from TerraCycle on the costs consumers find acceptable, resulted in a decision to set the deposit for the container at 3€ (roughly US$3.45). Says Verhaeghe, "Given the quality and the excitement we believe the design is offering, we think it's the right pricing."